Both Blake Shelton and Gwen Stefani have successful careers. They have acquired a massive net worth. But who makes more money in this relationship? It's one of the questions that are on fans' minds lately. As Country Music Alley previously reported, fans assumed that the couple already got married due to the tabloid rumors.
But they got engaged in October 2020. Since then, Gwen and Blake have been quietly planning their wedding. They haven't revealed their plans with their fans, as of yet. No matter what they have in mind, they'll be able to afford it. They're both lucky in that regard.
Country couple have dueling net worths
Blake Shelton is one of country music's biggest artists. He's been making music for nearly two decades. Meanwhile, Gwen Stefani has been on the radio since the mid-1990s with her band No Doubt. The duo has received a lot of praise for their respective careers.
Gwen has had plenty of hit singles in her back pocket. Most people associate her with songs like "Hollaback Girl" and "The Sweet Escape." These days, Blake is making headlines for his song "Minimum Wage," which is hugely debated. While Blake isn't on a global scale like Gwen is, he's still successful in his own right.
According to Outsider, Gwen is worth more than her 44-year-old fiance. Blake has a $100 million net worth, according to celebritynetworth.com. But Gwen beats him out with her $150 million net worth, according to the website. But it's clear that Blake doesn't care that Gwen makes more than him. He knew that the "Slow Clap" singer was a great catch from the moment that they met.
Their highly-anticipated wedding has been a topic of conversation lately. However, the duo has not announced a wedding date. The reason why is because of the coronavirus pandemic. Both Blake and Gwen want to wait until it's safe for their families to gather together.
Gwen Stefani and Blake Shelton nominated for an ACM Award
Gwen Stefani and Blake Shelton received another nomination. During her latest appearance on The Ellen DeGeneres Show, the singer talked about their past collaborations. Then, she revealed that she's still excited over her recent Academy of Country Music Awards nomination for their duet, "Nobody But You." Gwen claims that she "really hopped on a couple" of his songs, which she says is an "honor."
"Blake Shelton has 27 number one radio hits, I never in my wildest dreams would imagine being part of that," Gwen told Ellen. "To be on a song that goes number one in a genre that I have no business being part of, twice, and now up for these awards, it's pretty monumental and exciting and unexpected."
In February, Gwen earned her first ACM nomination for her collaboration with Blake. In October, the couple won the 2020 CMT Music Award for best collaborative video for their romantic song. The 51-year-old admits that she wants to learn more about the country music genre. Gwen has learned a lot about the songwriting process.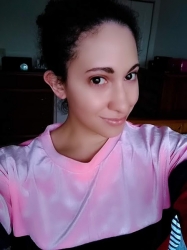 Latest posts by Chanel Adams
(see all)