Gwen Stefani and Blake Shelton are in engagement bliss. The No Doubt singer is still not over her surprise engagement in October. However, that hasn't stopped fans from thinking the couple got married in secret. Gwen and Blake have dated since 2015 and their love is still strong.
The duo had to overcome many obstacles along the way. Gwen waited for the Catholic Church to annul her previous marriage to Bush frontman Gavin Rossdale. Meanwhile, Blake wanted the approval of Gavin and Gwen's three sons – Kingston, Zuma Nesta, and Apollo Bowie. Despite all the challenges, the couple is dead set on walking down the aisle together.
But once again, the marriage rumors have swirled.
Did Blake Shelton and Gwen Stefani get secretly married?
According to tabloid Star Magazine, the couple decided to have a Malibu wedding. But Gwen Stefani and Blake Shelton have made it clear they're waiting until the COVID-19 pandemic is over. They don't want the novel virus to steal their spotlight. And Gwen has made it clear that she wants her parents to be there.
So Star Magazine's claims are already false. What's funny about this report is that neither Blake nor Gwen have revealed their wedding plans. Blake has only shared that he plans to lose weight before their wedding day. Despite the lack of proof, the headline reads: "Finally! Gwen & Blake Malibu Wedding! The Dress! The Guests! The Rings!"
Star claims to have all of the information. Insiders told the tabloid that the couple spent $2 million on the beachside wedding. But if you read the report further, the report states that the couple is preparing for a luxury wedding, not that they've already gotten hitched. The $2 million is just an estimate for the wedding but it hasn't been proven yet.
Gwen has supposedly picked out her wedding dress. An insider told the tabloid that the pair is getting ready to wed on the beach.
"The West coast won out because it's just more practical," the source said. "The two are now finally getting ready for the wedding."
Despite Star Magazine's claims, Gossip Cop shut down the rumor. The tabloid used a "bait and switch" to get readers to think that they already got married. The same magazine also claimed that Gwen was having twins last year, but she never got pregnant. It's also known to go back and forth and claim the couple is either having a lavish wedding or a backyard wedding.
Fans think the couple are already hitched
Even without the tabloid, fans seem to think that Gwen Stefani is married to Blake Shelton. Some of them shared their thoughts on Twitter. One noticed the singer's vague response to a question on the Australian radio show called Morning Crew with Hughesy, Ed & Erin.
Gwen confirming she & Blake got the J&J vaccine in OK & King embarrassed by the grocery tabloids 😂 pic.twitter.com/hzTLRHtPs4

— Cat 😽✨ (@GxCat26) March 17, 2021
everything about this is perfection 😂 https://t.co/5itrTCo45D

— 𝚒𝚜𝚊 | 𝚂𝙻𝙾𝚆 𝙲𝙻𝙰𝙿 𝙾𝚄𝚃 𝙽𝙾𝚆 (@gxblakey) March 17, 2021
Did anyone notice how long Gwen took to answer if Blake and her were already married, and how she didn't deny, but basically changed the subject???

— 👀Deb👂 (@DebraA87896585) March 17, 2021
Others just are convinced they already cemented their relationship. Maybe it's because they've been together for so long. Check out some of the tweets:
Insomnia/Weird late night movies/Too much screen time. Hot Flashes/No one else awake/Snowfall/TV remote/Star Magazine/Forensic Files/Free Cell/Binging Netflix/Apple Pie Rice Checks&oat milk/Gwen and Blake getting married. #insomniac #writer #writerlife #publisher #literaryagent

— Stacey Powells (@StaceyPowells) March 17, 2021
Miranda left Blake and won a Grammy, Gwen married him and became a republican. Makes you think.

— Yung Buñuelo (@Povediitz) March 15, 2021
There's a whole generation of people that only know Gwen Stefani as a crappy talent show judge and that she's married to Blake Shelton. They don't know she was lead singer of No Doubt.

— redacted (@mr_sparks87) March 13, 2021
gwen was such a bad bitch and now she's married to blake shelton PLEASE 😭

— kim (@kimglazed) March 13, 2021
I started crying while listening to music, not because the song was sad, but because I remembered that Gwen Stefani married Blake Shelton and then they made a country album together

— Ben Jamin (@johben28) March 11, 2021
But the couple has been open about every aspect of their relationship. It would be unlike them to keep their wedding a secret from their fans. However, they could want to keep this one aspect to themselves for now. But it seems like they're not in a hurry at this moment.
What are your thoughts? Do you think Gwen and Blake are secretly married? Sound off below in the comments.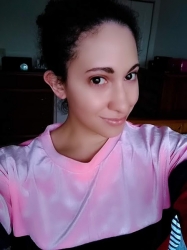 Latest posts by Chanel Adams
(see all)