Kelly Clarkson kicked off the week with an Adele cover. During the Monday, March 22 broadcast, she performed a cover of the singer's "Water Under the Bridge." Kelly continues to make headlines for her captivating performances during "Kellyoke." Viewers always look forward to seeing what the American Idol will sing each day.
She's made it clear time and time again why she's one of the top performers from that show. Fans have been waiting for Kelly to perform an Adele song and she finally has. The track is from the singer-songwriter's third album, 25. Kelly's voice soared above the chugging guitar line, drums, and handclap beat.
Kelly Clarkson performs a powerful rendition of Adele cover
During her performance, Kelly Clarkson opted for a chocolate brown dress with gold hoop earrings. She proved she wasn't playing around. The songstress showed off her vocals before soaring into the chorus. Meanwhile, Kelly was backed up by gospel-esque backing vocals.
Greg Kurstin wrote the original song. It was the fourth and final song on Adele's most recent album, which came out in 2015. "Water Under the Bridge" peaked at No. 26 on the Billboard Hot 100 chart in February 2017. 25 won two Grammys for Album of the Year and Best Pop Vocal Album. Kelly and Adele are the only two-time winners in the latter category. Adele previously won Best Pop Vocal Album for 21 and 25, while Kelly won the same award for Breakaway and Stronger.
This performance came after she headlined this weekend's "We're Texas" benefit concert. Kelly and other celebrities helped raise funds for those impacted by February's winter storms. Actor Matthew McConaughey and his wife, Camila Alves, organized the event. During the event, she sang her rendition of "Whole Lotta Woman" from her eighth studio album, Meaning of Life.
Daytime host is starting the week off right
Kelly Clarkson is having a strong week. She was joined by her band Y'all during this performance on the daytime show. The blue lights flashed behind her as she took the stage. She belted out an incredible cover of Adele's 2015 original song and fans agreed. Here are just some of the comments from the YouTube video:
"Kelly is just a gift that keeps giving."
"I need a KellyxAdele collab ahhh this is incredible."
"Kelly has such a storytelling voice. Always."
"A Kelly-Adele collaboration would shake the world up. Powerhouses!"
"I'm taking this as a sign from the universe that ADELE is going to release a new album soon. Kelly is summoning her."
"We need a 'The Kelly Clarkson Show' vinyl record! Where she puts all of the songs she performed on it!"
The singer has been treating her fans to covers ever since the talk show debuted in 2019. Most agree that it's one of the best parts of the show. Over the past few years alone, Kelly has covered Coldplay's "Green Eyes," Gwen Stefani's "Misery," and Justin Bieber and Benny Blanco's "Lonely."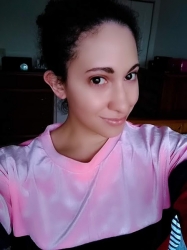 Latest posts by Chanel Adams
(see all)