On Saturday, March 20, Kelly Clarkson made a huge announcement on Instagram. She shared a poster for the "We're Texas" benefit concert, which is virtual. Earlier this week, actor Matthew McConaughey and his wife Camila Alves McConaughey announced that they're holding a concert to support their home state of Texas. This comes after the February winter storm that ravaged the state and left residents with no power and burst pipes.
Previously, Matthew was a guest on The Kelly Clarkson Show. He made a personal request for the latest edition of "Kellyoke." He asked Kelly to perform the song "Walkaway Joe." During the broadcast, she also spoke to him about his long-running acting career.
Now, the fellow Texans want to help out their state.
Kelly Clarkson, Willie Nelson, Don Henley, among others to perform
The "We're Texas" virtual concert is scheduled for Sunday, March 21 at 8 p.m. ET. It features performances by Don Henley, Gary Clark Jr., George Strait, Kacey Musgraves, Kelly Clarkson, Khalid, Kirk Franklin, Leon Bridges, Lukas Nelson, Lyle Lovett, Miranda Lambert, Parker McCollum, Post Malone, Randy Rogers, and Willie Nelson.
"A lot of Texans are hurting right now," McConaughey said in a statement. "After the disaster of the worst freeze here in over 70 years, so many are still without clean water, and unable to repair water damage that has made their homes unlivable. One of my favorite things about Texans is that we like to help ourselves, and while that spirit is still alive and well, a lot of Texans can't help themselves right now unless we help them. The We're Texas Virtual Event features an all-star lineup of Texas talent for a night to restore Texas. It's time."
The singer also made an announcement via Instagram. In the lengthy caption, she revealed that she's "excited" to help out Matthew and Camila along with the Just Keep Livin Foundation. Fans flocked to Kelly's post to show their support. Most of them were impressed to see the singer doing more good. This comes after Kelly and Wayfair helped Louisiana residents whose homes were left ravaged by Hurricane Laura.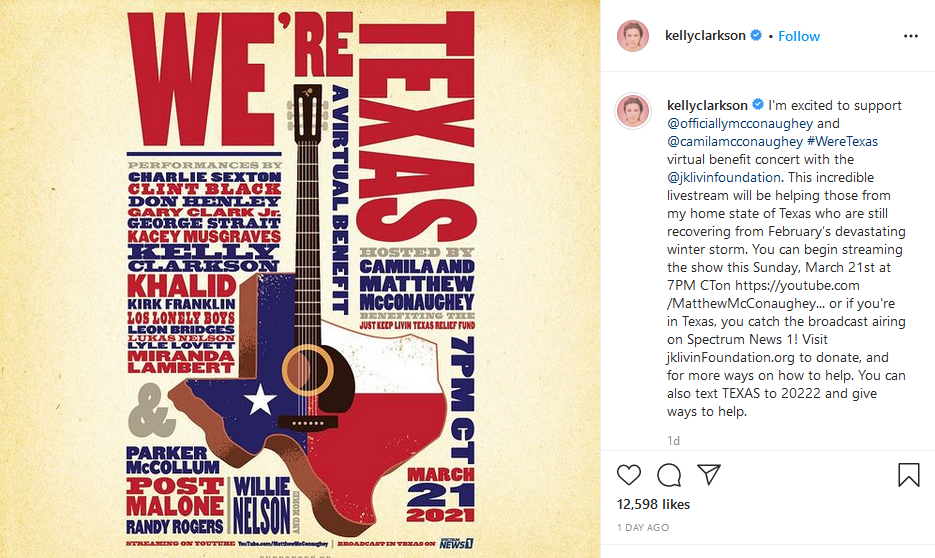 How to Watch the 'We're Texas' concert
There's no doubt that Texas was left devastated by the cold snap in mid-February. The plunging temperatures combined with the lack of electricity and clean water led to the deaths of 57 people, according to the Texas Tribune. To this day, many Americans want to show their support.
They can now do so by watching the concert on Matthew's YouTube channel. It will feature a donate button. Also, viewers can text 20222 to give $10. One hundred percent of donations will benefit the Just Keep Living Texas Relief Fund to support both short-term and long-term needs resulted from the winter storm.
The live concert streams on YouTube at 8 p.m. ET. Other special appearances include the Jonas Brothers, Meghan Thee Stallion, Selena Gomez, and more.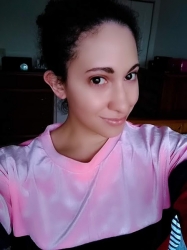 Latest posts by Chanel Adams
(see all)