Kelly Clarkson performed at throwback. On the Tuesday, March 22 broadcast of The Kelly Clarkson Show, she opened the show with another amazing "Kellyoke" cover. She covered the '90s hit song "Weak" by R&B trio SWV. You can say that this cover made her fans weak.
For this performance, Kelly was decked out in a leopard print dress with exaggerated shoulders. "Weak" dropped in 1993 and went to the top of the Billboard Hot 100 for two weeks. It's an iconic R&B song to this day. For her cover, Kelly stayed true to the soulful classic, which is perfect for her voice.
Kelly Clarkson impresses fans with another "Kellyoke" performance
She stayed true to the original track. Kelly Clarkson sang with her backing band Y'all for this fiery cover. As usual, fans loved the performance. Most of them flocked to the YouTube video to share their thoughts in the comments section. Here are just some of the glowing praises:
"Kelly reminds me of Whitney how she can confidently change the melody and key slightly to give her own spin! Masterful Kelly! I love you!"
"Kelly can sing anything she needs to make an album with songs she sings on her show."
"This girl can literally sing ANYTHING!!!!!!!!!!!"
"I'm so weak in the knees for Kelly Clarkson!"
"Can't explain why our love for Kelly makes us weak!"
One fan noticed that Kelly was "smiling and bopping" along to the song. She looked alive as she kept up with the beat. Another fan wondered why more people aren't "talking about her like the legendary vocalist she is?" But Kelly has consistently been making headlines for her epic covers in the past few weeks alone. On Monday, she just covered a song by fellow powerhouse performer Adele.
Check out this performance of "Whole Lotta Woman"
Kelly Clarkson helped raise funds for those impacted by the Texas winter storms on Sunday, March 21. Over the weekend, she performed at the "We're Texas" fundraiser, which Matthew McConaughey and Camila Alves McConaughey organized. During that performance, she wore a black dress that featured white stars. She sang the lyrics to her female empowerment anthem "Whole Lotta Woman."
Of course, Kelly's backup band and singers were in tow. She gave an impressive performance. "Whole Lotta Woman" is a track from her 2017 album, Meaning of Life. Kelly co-wrote the song alongside Brittany Coney, Denisia Andrews, Evon Barnes Jr., Jesse Shatkin, and Jussi Karvinen.
The benefit concert also included performances from fellow Texas natives, such as Charlie Sexton, Clinton Black, Gary Clark Jr., Clint Black, Kacey Musgraves, Leon Bridges, Miranda Lambert, Post Malone, Randy Rogers, Willie Nelson, and more.
What are your thoughts on her latest "Kellyoke" performance? Which cover is your favorite? Sound off below in the comments.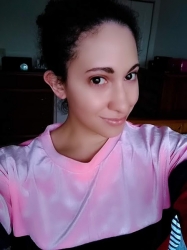 Latest posts by Chanel Adams
(see all)