Kelly Clarkson gave fans the chills with her latest cover. On a previous episode of The Kelly Clarkson Show, she performed a cover of "Mad World" by Tears for Fears. The latest performance is from her popular "Kellyoke" series. She brought her own spin to the classic '80s hit, which was backed by her band, Y'all.
Check out this captivating "Kellyoke" cover
On Friday, March 26, the daytime host performed this Tears for Fears song by fan request. For this performance, she wore a colorful floral print dress. Eighties lovers know that "Mad World" is a synth-pop track. But Kelly Clarkson gave an instrumental and stripped-down version of the song. She allowed her vocals to steal the show.
Green and blue lights flashed behind her as she belted out the lyrics. The American Idol alum even slowed down the tempo for a cover that fans call "haunting" and "enchanting." Since the performance is only two minutes long, fans are wanting more. Check out Kelly's impressive cover in the video below.
"I'm convinced that there isn't a song Kelly can't make sound great with her voice."
"Kelly's voice is so versatile. Real talent, not everyone has that."
"I've officially run out of compliments for this one."
"Kelly's voice really haunting and awesome. She is magical."
"Kelly you are and will always be the original American Idol this is the reason why."
"We need to get her a netflix or peacock special where she does a two-hour cover concert. COME ON EXECUTIVES LETS MAKE THIS HAPPEN."
She's not the only American Idol alum to cover a Tears for Fears' song. Adam Lambert previously sang a rendition of "Mad World" in 2009 during his season of Idol. Jules and Andrews covered the song for the 2001 film, Donnie Darko. Then, in 2018, British pop star Lily Allen performed her rendition for Spotify's Singles series.
Ever since The Kelly Clarkson Show debuted in 2019, it ran over 300 episodes. The second season will come to a close in April. It'll be interesting to see what else Kelly will perform as the song prepares to wrap up for the summer. Kelly performs a cover during each segment of her show.
Kelly Clarkson vs. Adam Lambert: Who sang it better?
While most fans declare that Kelly Clarkson is the ultimate singer from American Idol, some can't help but think about Adam Lambert. During his time on the singing competition, he took a different spin on the 1982 song with his incredible vocal range and theatric. Lambert's performance only received criticism from judge Simon Cowell. He felt that it was a little too over-the-top.
When it comes to Clarkson's song, she opts for a slower tempo but adds some guitars and heavy drums at the end. Although it's a popular song, "Mad World" was never a chart-topper for Tears for Fears. However, its many covers have lent to its increasing popularity. Let us know your thoughts on Clarkson and Lambert's covers of "Mad World."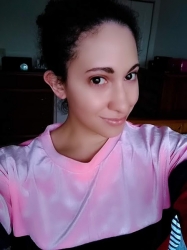 Latest posts by Chanel Adams
(see all)