Miranda Lambert released a new song from her upcoming album, The Marfa Tapes. The third song is titled "Am I Right or Amarillo" from her collaborative album with Jack Ingram and Jon Randall. On Friday, March 26, the new track dropped. Not only did it showcase the trio's harmonies, but it also showed off Lambert's raw vocals.
That's the essence of The Marfa Tapes. Earlier this month, the singer-songwriter announced her new album. According to Lambert, this project has been years in the making. She recorded and wrote the songs with Randall and Ingram in Marfa. All they used is an acoustic guitar and a pair of microphones.
Miranda Lambert croons about wanting a love
On the new song, Miranda Lambert belts out, "Am I right or Amarillo? Am I wrong for loving you?" The sultry song shows Lambert and her collaborators singing together throughout. You can check out their new track below.
"Am I Right or Amarillo" is the third song from The Marfa Tapes. It follows the previous singles "Tin Man" and "In His Arms." On Thursday, March 4, Lambert announced her new collaborative project via social media. She recorded the entire album in Marfa, Texas, which is a place she loves to hide away from the world and write music in peace.
"Recorded in Marfa, TX. They're raw. You can hear the wind blowing, the cows mooing…" Lambert said at the time. "We wanted you to feel like you were right there with us, sitting around the campfire, escaping the world, disappearing into the music."
Lambert co-wrote the 15 tracks with her longtime friends. Ingram and Randall also worked on her hit song "Tequila Does," which was also written in Marfa, Texas. Lambert was previously featured on Elle King's new song "Drunk (And I Don't Wanna Go Home)," which was a fun video for the two friends. On that single, they wanted to convey their wild nights out together. As fans know, Lambert and King love to drink and have a good time.
Jon Randall reveals details of new single
On this new single, Miranda Lambert shows off her vocals in this stripped-down production and minimal instrumentation. It's only accompanied by an acoustic guitar, ambient sounds, and backing vocals. Randall has the lead vocals on this song, even though most of the song is sung in three-part harmony. It's perfectly reminiscent of classic country songs that often tell a story that takes place at a Texas truck stop.
"'Am I Right or Amarillo' was a Jack Ingram line," Randall revealed in a press release submitted to Rolling Stone. "I think we were talking about the most time we've ever spent in Amarillo was at the truck stop. We just started riffing on the title and a cheating song showed itself. We all miss country cheating songs so we just went with it."
The Marfa Tapes is set for release in May. In the later part of April and early part of May, Lambert will perform a handful of live shows in Texas at Billy Bob's. What are your thoughts on Lambert's new song? Sound off below in the comments.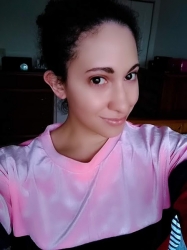 Latest posts by Chanel Adams
(see all)