Kelly Clarkson did it again. On the March 29, Monday broadcast of The Kelly Clarkson Show, she performed "Diggin' On You" by TLC. This cover performance is making fans feel nostalgic since it's all the rage right now. Now, they're wanting a TLC and Kelly collaboration since she has covered the girl group before.
Check out this latest "Kellyoke" segment
On the Monday episode of her hit daytime show, the host and her band Y'all performed their rendition of the '90s song. The song was released as the fourth and final single from their second album CrazySexyCool in 1995. Kenneth "Babyface" Edmonds wrote and produced the track.
"Diggin' On You" peaked at No. 5 on the U.S. Billboard Hot 100. It also hit No. 6 in Australia and No. 18 in the UK Singles Chart. The hip track contains the "jeep beat," which lyrics that contain a "streetwise vibe." During Monday's performance, Kelly decided to put her own spin on it. Of course, fans are digging it and raved about her cover on YouTube:
"Kelly + TLC??! I think YES!"
"I don't think I've ever seen anyone cover this …Soo good."
"This is giving me Thankful vibes and I'm not mad about it."
"One of their most underrated singles omg go Kelly!!!!!"
"This was good! Kelly can literally do anything!"
"Kelly's version of this is awesome!"
Once again, fans are falling in love with Kelly's covers. They get "chills" every time she performs. This comes after Kelly performed SWP's "Weak" last week, which they went nuts before. She also covered a wide variety of songs, ranting from Tears to Fears' "Mad World" and Adele's "Bridge Under the Water."
Kelly Clarkson covered TLC before
The singer-songwriter has covered TLC songs before. In June 2020, Kelly Clarkson performed a cover of TLC's "Unpretty" on The Kelly Clarkson Show. It turned out to be a very pretty version of the song that talks about beauty and self-esteem. The performance took place during the quarantine version of "Kellyoke."
Kelly sang alongside her band in separate picture frames. She stuck to the 1999 song's original style, with her voice taking center stage as usual. Kelly performed this cover after she moved back to Los Angeles after she filed for divorce from her estranged husband and former manager Brandon Blackstock. At the time, the couple was quarantining together in Montana.
"Unpretty" was just part of a long list of cover quarantine "Kellyoke" segments, including Madonna's "Like a Prayer," Mariah Carey's "Vanishing," and Rosemary Clooney's "You'll Never Know." Fans felt that this "Unpretty" cover was very "pretty" with Kelly's vocals. At the time, Kelly revealed how therapy has allowed her to heal from trauma.
"You think you're past it, and although you know the situation and think you figured it out, you just don't realize how much PTSD comes into play when something triggers you like that," she said on her show, as quoted by Just Jared.
In 2019, she covered TLC's hit song "Waterfalls." What are your thoughts on Kelly's latest TLC cover? Which one do you like more? Sound off below in the comments.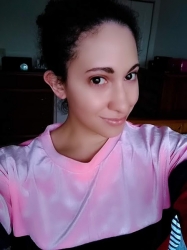 Latest posts by Chanel Adams
(see all)