Carrie Underwood has experimented with different music genres. The country star sang in Spanish in a duet with David Bisbal. She also released her first-ever gospel ever. Does she want to go grunge next? In a new interview, Carrie revealed her passion for '90s grunge rock.
She admitted that she always loved that kind of music. Carrie felt "lucky" to grow up around '90s grunge music. It's hard to believe that the "Before He Cheats" singer had not only an awkward phase but also a grunge phase. In the new interview, Carrie shared how that time in her life influenced her country music career.
Carrie Underwood opens up about her grunge phase
According to the Times Herald, Carrie Underwood is opening up about her '90s grunge phase. The singer listened to many alternative bands from that time. While she has "always loved" country music, she enjoyed music from the likes of Nirvana and Soundgarden. Grunge rock was her favorite music growing up.
"I was lucky enough to grow up with 90s grunge," Carrie said. "In my teens, I was into Nirvana and Chris Cornell from Soundgarden. I loved everything he did."
However, don't expect Carrie to release a grunge rock album anytime soon. She added that she "always loved" country music – which she calls her "home" and "heart." The songstress just released her new album, My Savior. It's a collection of Christian hymns that she grew up singing as a kid before she got into grunge.
Country star talks about her foray into gospel music
Carrie Underwood wanted to make the album after releasing her first-ever Christmas album, My Gift. She loved singing those songs so much that she wanted to keep that inspiration up. Now, Carrie is preparing for the live stream concert from Ryman Auditorium on Easter Sunday. She revealed how her new project came into play.
"I had such an amazing, inspired time making My Gift, I wanted to stay in that mindset," she explained. "With My Savior, I wanted it to feel like I was in the church I grew up in, to freshen the hymns up but to keep the traditional feel and the heart … It was all about wanting to bring these songs to life again, and obviously now I wanted to do something on stage."
As for the reason why the "Soft and Tenderly" singer chose to perform from the Ryman, she claims that the stage "is so inspirational, it feels like a church." The 38-year-old said she "always wanted" to make a collection of hymns that have "shaped" her as an artist.
"It's the album I always wanted to make," Carrie continued. "Hymns and gospel music shaped me as an artist. They were the first things I sang. I've been singing them my whole life."
Still, fans are waiting for Carrie to return to her country music roots. According to the rumors, she could release a new country music album later this year. Carrie hasn't confirmed the rumors as of yet. Since she's always up to something, she could tease something soon.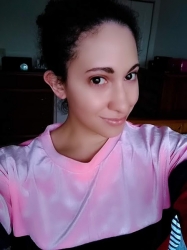 Latest posts by Chanel Adams
(see all)