Miranda Lambert is not afraid to speak her mind. She's a spitfire performer, but that doesn't mean she'll perform if the audience isn't interested. There was even a time when she literally put her mic down and stopped performing during a concert. During a recent interview, the "Bluebird" singer talked about the time she refused to sing at one of her concerts.
Recently, Miranda appeared on Apple's Essentials Radio podcast with Kelleigh Bannen. As Country Music Alley previously reported, Miranda shared the story of how she worked on the song "Over You" with her ex-husband Blake Shelton. The songstress reflected back on her career, even that time when she decided not to sing.
Why Miranda Lambert "just put the mic down"
Back in 2007, Miranda Lambert opened for her friend and fellow country artist, Toby Keith. At one of their concerts, the audience wasn't enthusiastic about Miranda's performance. The "Gunpowder and Lead" singer didn't feel right about performing in front of a dead crowd. During the interview, Miranda recalled what she did at that moment.
"It was an amphitheater tour, and one night, the whole audience, they wouldn't even clap hardly," Miranda recalled, as quoted by Outsider. "I was about to do 'Gunpowder,' and it was my last song."
The singer-songwriter was upset with the audience's reaction. So, she "just put the mic down" and refused to sing. Eventually, Miranda picked her mic back up and addressed the crowd about their lack of excitement. She told the audience that she will not sing until she got a reaction out of them.
"I said, 'If y'all want to see Toby, right, you're here to see Toby?' I realized that, clearly," she continued. "They're like, 'Yeah!!' And I was like, 'I will leave as soon as I get a reaction. If anybody could just stand up, one person. And so the band vamped for like a solid minute and a half, which is like death to me because I hate dead time on stage. I panic."
That's when Miranda placed the microphone on the ground and walked up and down the stage. Then, two audience members got up from their seats, and slowly, the whole crowd stood up. It was like one of those slow golf claps you see in movies. Suddenly, Miranda had no idea what to do other than to sing again.
Country singer drops new collaborative single
On Friday, March 26, Miranda Lambert released "Am I Right or Amarillo," which is the third single from her upcoming album, The Marfa Tapes. She worked on the project with Jack Ingram and Jon Randall in Marfa, Texas. This song follows the release of "In His Arms" and "Tin Man."
In March, Miranda announced her new collaborative project with her fans. She revealed that Marfa is one of her favorite places to hide away and write music. This album will be different from her previous efforts since it features raw and stripped-down vocals and instruments. Fans will also get to hear the ambient sounds of Marfa, which makes for a relaxing experience.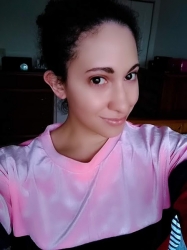 Latest posts by Chanel Adams
(see all)