Miranda Lambert is looking back at some of her songs. The country singer is working on a new album these days. Earlier this month, she announced her new album, The Marfa Tapes, which she worked on with Jon Randall and Jack Ingram. She just dropped the third and latest single from that album.
Now, she's looking back at some of her old music. The artist made an appearance on the latest episode of Essentials Radio podcast on Apple Music. During the interview, Miranda which of her collaborations with Blake Shelton was the hardest to write. She felt that it could be too "invasive."
Which Blake Shelton duet is she talking about?
In 2012, Miranda Lambert and Blake Shelton wrote a song about the death of his brother. Songwriters know how to put their thoughts and emotions to paper. However, even some of them feel that some topics are too painful to touch. Miranda shared the story of their song "Over You," which she wrote with her ex-husband.
Blake's brother, Richie, died in a car accident in 1990 at just the age of 24. Miranda recalled a conversation that she had with Blake at the time. She wondered if he should channel his grief into a song.
"Dudes don't open up about things, but he started telling me about the experience of it all," Miranda explained. "And I was like, 'Have you ever written about it?'" …And he's like, 'No.' And he was like, 'Well, my dad just says, 'You don't get over it. You just get used to it.' And I was like, 'Well, could we write it? Do you want to try or is that invasive?'"
Miranda made it clear that she didn't want to write the song for Blake. She felt it was his story to tell. Rather, she wanted to share her "perspective" of losing someone close to her. Since Miranda could feel Blake's pain, she could help him channel that into the song.
Their emotional song won Song of the Year at the CMA Awards and the ACM Awards. Also, it hit No. 1 on Billboard's Hot Country Songs and Country Airplay charts. Miranda calls it "a special moment" that "helped his family heal."
Miranda Lambert reflects back on her previous records
During the interview, the singer-songwriter also shared her thoughts on her double-album, The Weight of These Wings. At the time, she was dealing with her public divorce from Blake and had to get her feelings out somehow. Since she is blessed with the gift of songwriting, she decided to get it out into songs.
"It was just a record I needed to make," Miranda explained. "I guess probably every artist has those songs or records in their timeline at some point. It's just something you need to do for yourself."
She recalls that time "noisy" and "chaos." The "Bluebird" singer wanted to shut out the noise and just tell her side of the story. Then, she touched upon her career-high with "The House That Built Me," off her 2009 album, Revolution. Miranda recalls the moment she first heard the demo during a car ride home.
"It overtook my body for some reason. I cared about it so much that I think it's found its perfect home," Miranda exclaimed. "It's the greatest song I've ever recorded. I wish I would have written it."
In the interview, Miranda also talked about her first performance at the 2005 CMA Awards, auditioning for Pistol Annies, and her current single "Settling Down." You can listen to the full conversation on-demand here and her Essentials playlist on here.
Which Miranda song is your favorite? Sound off below in the comments.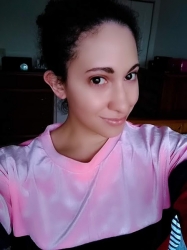 Latest posts by Chanel Adams
(see all)