On Easter Sunday, Carrie Underwood held a live virtual concert. While it benefited most of those who could not attend church, it also helped children. The singer raised over $101,000 for a local charity in Nashville. On Sunday, April 4, she performed live at the Ryman Auditorium via her Facebook page.
Carrie performed Christian hymns such as "Amazing Grace," "I Surrender All," and "O How I Love Jesus" from her new gospel album, My Savior. When she announced the new album on Christmas Day, she described it as a companion to My Gift. Also in attendance was gospel legend CeCe Winans and NEEDTOBREATHE frontman Bear Rinehart. The concert helped the human organization Save The Children.
How much did the singer raise?
According to USA Today, the fundraiser helped Save The Children collect $101,035 as of early Monday morning, April 5. Carrie Underwood live-streamed the event from her official Facebook page, which will be available for free for 48 hours. She helped raise donations for the global organization, which "works in over 100 countries to make sure children all over the world grow up healthy, educated and safe."
"It means so much to be able to bring this event to people in their homes on a day that holds so much meaning for us spiritually and to be able to raise much-needed funds and awareness for the incredible work of Save the Children as we celebrate the importance of family," Carrie previously said in a press release.
Over the weekend, the country artist also released her first-ever gospel album. The 13-song record features Carrie covering Christian hymns from her childhood. The album was one of her "bucket list" must-dos. It features songs that range from bluegrass to gospel and traditional country music. So, country music fans will get something out of this album as well.
Carrie Underwood gives her Easter gift
On Sunday morning, Carrie Underwood wanted to give a unique gift to her fans. She wanted to share inspirational music in a live format with her special guests. The "Soft and Tenderly" singer delivered a powerful rendition of these gospel hymns. Carrie also looked as beautiful as she sounded.
Some would say that that the live experience was almost ethereal. For some fans, it felt akin to a Sunday service. There was even a gospel choir. The 38-year-old singer has admitted that she misses being able to use her "gift" of performing to fans at her concerts. It's one of the reasons why Carrie wanted to do this concert.
"I love singing so much. I forget how much I love it until I haven't gotten to do it for a while, which was all last year!" she said. "Other than being in the studio, of course. But being on stage and having a microphone in my hand, I feel so at home. I feel at peace. I love being on the Ryman stage and singing these songs that I love so much."
She performed all 13 tracks from My Savior. The venue was the ideal spot for the concert, which features pews and stained-glass windows. Carrie described it as "the mother church of country music." Ryman Auditorium is also known as the home of the Grand Ole Opry.
Did you check out Carrie's Easter Sunday concert? If so, what are your thoughts? Sound off below in the comments.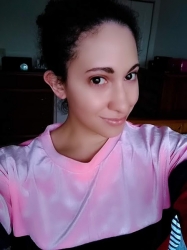 Latest posts by Chanel Adams
(see all)