Gwen Stefani is headlining an upcoming show in Toledo, Ohio. The concert will take place at Promenade Park following the 2021 Solheim Cup Opening Ceremonies. Read on to learn more.
No Doubt frontwoman headlining concert at Promenade Park
The "Let Me Reintroduce Myself" singer is gearing up for a big year. On Monday, April 5, 13 ABC Action News reported that the 51-year-old will headline the first concert that will take place after the Solheim Cup Opening Ceremonies. This is the first live concert and show of the year for the singer who's currently working on her new album.
According to the report, Gwen Stefani will perform at Promenade Park on Friday, September 3. Tickets will officially go on sale on Friday, April 9 on Ticketmaster and the official Promenade Concerts website. Fans can also purchase parking passes at checkout. Stefani found fame as the lead singer of No Doubt, but she has also become a successful pop artist over the years.
Now, she's known for collaborating with her fiance Blake Shelton. Stefani also served as a coach on the NBC singing competition The Voice. However, she isn't the only star headlining the event. Chris Young will perform on Saturday, September 4. He was the Season 4 winner of Nashville Star.
Unlike events in the past, this year's concerts will be cashless. Tickets are available through mobile payments or credit/debit card payments. Also, all food, beverage, and retail locations will also be cashless in this new world. The event's organizers are taking the health and safety of their guests as seriously as possible.
ProMedica will monitor the ongoing COVID-19 pandemic leading up to the event. State and local health officials will also determine if the concerts will move forward as planned. Stay tuned to Country Music Alley for any updates.
Gwen Stefani dropping a "Slow Clap" remix with Saweetie
This coming Friday will be a big day for Gwen Stefani. Last month, she dropped her new single "Slow Clap." The song is the follow-up to her previous single "Let Me Reintroduce Myself," which she released in December 2020. Now, Stefani is returning to her ska and reggae roots, similar to her music with No Doubt.
It doesn't look like the singer will return to her country music roots anytime soon. She even revealed that she's "so mad" that he won't write music with her. "Slow Clap" received positive reactions from fans on social media. Now, she's collaborating with the up-and-coming artist who's establishing herself in the industry.
Gwen Gwen & Saweetie !! 🥳🥳🥳 https://t.co/Sbb0h821a0

— 220 (@Saweetie) April 4, 2021
On Sunday night, Stefani took to social media to announce that she will drop the "Slow Clap" remix on Friday. She said that the new version comes "with a little bit of extra sauce." This is good news for Stefani who's working on her fifth studio album. As of right now, there is no official release date, but that could all change.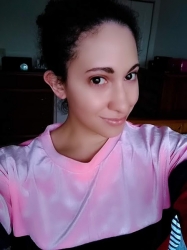 Latest posts by Chanel Adams
(see all)