Taylor Swift fans found out that she's a "Crime Junkie" queen. Over the weekend, the singer announced the complete tracklist from Fearless (Taylor's Version). The singer left her fans with a complex puzzle that they were able to solve. One of those clues included a collaboration with country singer Keith Urban.
Now, she's revealing that she's a Crime Junkie enthusiast. The "Willow" singer shared an Instagram Story that shows her listening to the true-crime podcast and cracks a joke about HAIM. Swift collaborated with the trio on the songs "no body, no crime" and "Gasoline."
She exposed herself as a true crime junkie
On her Instagram Story, Taylor Swift shared a screenshot from the Crime Junkie podcast. She wrote: "SCREAMING. 13 STARS. NO BODY NO HAIM." Then, the singer added: "I just changed Este's name to Ester Hollis in my phone." In her post, she tagged the band.
The episode titled "Missing: Esther Hollis" was released on April Fool's Day, which proves it was nothing more than just a joke. Hosts Ashley Flowers and Brit created a fake storyline based on the song "no body, no crime" from Swift's album, Evermore.
The country-esque song features HAIM with a harmonica and the chorus, "He did it." Crime Junkie took the song and ran with it, impressing the singer-songwriter. "WELL PLAYED @crimejunkiepodcast," she excitedly wrote. The hosts created a story about Esther's fictional job at Olive Garden and her cheating husband.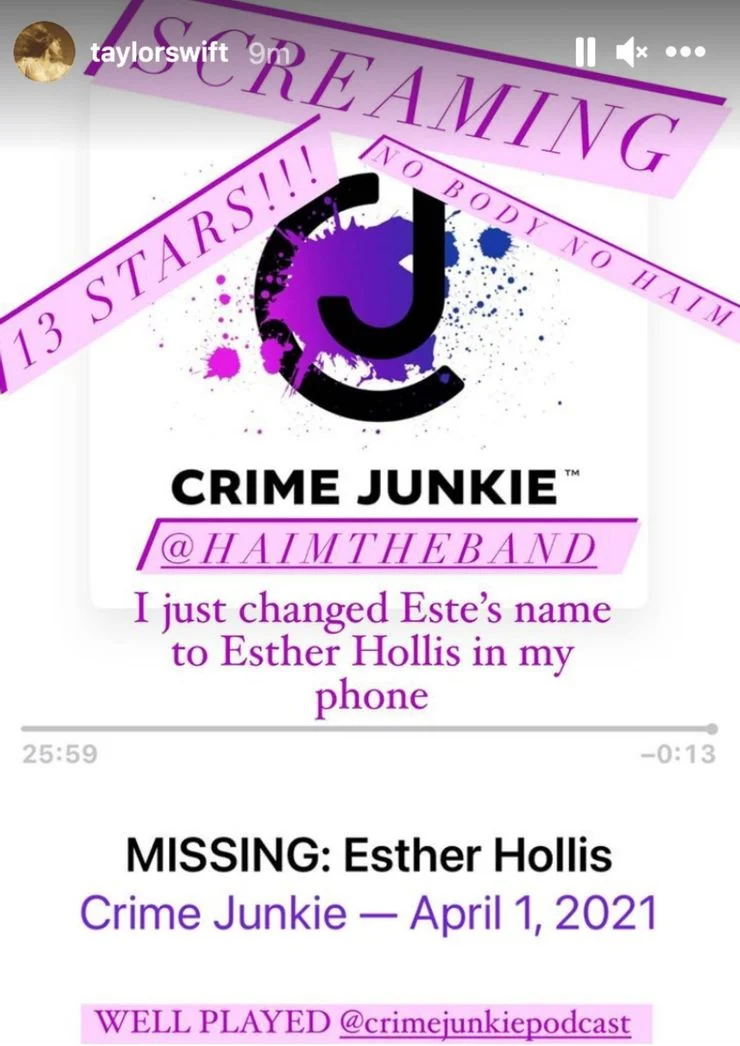 On the song itself, HAIM and Swift tell the story about a woman named Este who has been murdered by her husband.
"I think he did it but I just can't prove it/No, no body, no crime/ But I ain't letting up until the day I die," the lyrics say.
Este is also the name of one of the HAIM sisters, which is why Swift joked that she "just changed Este's name to Esther Hollis in my phone."
Taylor Swift explains the meaning behind the song
Of course, Taylor Swift dove into the lyrics of "no body, no crime" when Evermore dropped on December 11, 2020. The song suggests a possible murder or two and mentions two of the HAIM sisters. Plus, it could reference other tracks on the album and possibly a real-life missing persons case. The sixth track of Evermore trended on Twitter immediately after the release of the album.
Swift tweeted that many of the songs on the album talk about "'the unhappily ever after' anthology of marriage, [which] include infidelity, ambivalent toleration, and even murder.'" According to Swift, "no body, no crime" is one of those songs.
As evidenced in Folklore, Swift likes to intertwine songs on her albums. She even revealed that some of the tracks on Evermore are either "mirrored or intersecting with one another." Some fans think "no body, no crime" connect to "Dorothea" and "Majorie." However, the singer said that "Majorie" is about her late grandmother.
As for "Dorothea," it tells the story of a "girl who left her small town … and what happens when she comes home for the holidays and rediscovers an old flame." This song probably correlates back to "'Tis the Damn Season," which shares a similar story.
What do you think "no body, no crime" is about? Sound off below in the comments.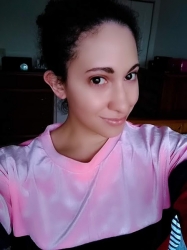 Latest posts by Chanel Adams
(see all)