Although My Savior is more of a gospel album, it landed on the country charts. Carrie Underwood struck gold with this first-time project. She knocked Morgan Wallen's album out of the No. 1 spot. It makes sense since the country singer is one of the most successful artists of all time.
Meanwhile, Morgan has been the center of controversy lately. He was caught on video uttering the N-word. The scandal led to a massive shakeup in the country music industry. Some artists are calling for more diversity and a conversation about racism in the industry.
'My Savior' debuts at No. 1
According to Taste of Country, Carrie Underwood knocked Morgan Wallen's album out of the Billboard Country Albums Chart. The album is No.1 this week, which is impressive for the singer who's explored outside of the country music genre. The gospel record also topped other music charts in its first week.
The 13-song album is No. 1 on Billboard's Top Christian Albums chart and is No. 4 on the Billboard 200. This is Underwood's ninth consecutive album to debut the top spot on the country chart and to top all five on the all-genre chart, according to Win 98.5. The album is a collection of hymns that Underwood grew up singing in her church in her native Oklahoma.
Wallen's album, Dangerous: The Double Album spent 10 weeks at No. 1 on the Billboard 200 before it dropped to No. 3 last week. His sophomore album currently sits at No. 5 and at No. 2 on the Country chart. Underwood's latest album is the companion album to My Gift, released last fall. She also held her Easter morning live stream concert on Facebook. The Ryman Auditorium event raised over $100,000 for Save the Children.
Carrie Underwood performs new album
On Easter Sunday, Carrie Underwood performed all 13 songs from My Savior. She wanted to give the gift of her voice to those who can use it in these challenging times. Prior to the virtual concert, Underwood dropped the album on Friday, which includes covers of classic songs like "Amazing Grace" and "Soft and Tenderly."
She performed all of the tracks during the live-streamed event at the Nashville venue that fans can still watch on her Facebook page. Underwood wanted to introduce the younger generation to My Savior. She felt that the coronavirus pandemic was the perfect time to record the album, according to Faith Wire.
The uplifting music could give people a sense of hope. On the project, Underwood collaborated with Bear Rinehart from NEEDTOBREATHE and legendary gospel singer CeCe Winans. While Underwood admits she likes to sing "sassy" music, she's grateful to "sing songs like this."
Watch Carrie Underwood perform "Great is Thy Faithfulness" at the upcoming 2021 ACM Awards on CBS on Sunday, April 18. Check your local listings for details.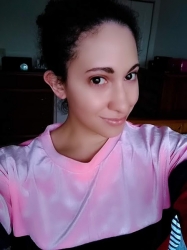 Latest posts by Chanel Adams
(see all)