Kelly Clarkson is single-handedly keeping country music alive. The daytime talk show host and her band Y'all performed two country classics on The Kelly Clarkson Show this week. Fans often love it when she sings soulful or rock music because they feel those genres suit her voice best.
However, there are some who love it when Clarkson sings country. She has the right style and vibe for this music genre. Her latest performances featuring her singing covers of classic Patsy Cline and Martina McBride's songs. Country fans will enjoy seeing Clarkson going back to her country music roots, especially since she's a proud Texan.
Kelly Clarkson gives an unplugged version of "She's Got You" by Patsy Cline
On Wednesday, April 7, the American Idol alum and her band Y'all gave their rendition of Patsy Cline's "She's Got You." This stripped-down performance just focused on Kelly Clarkson and her incredible vocal talent. Hank Cochran wrote and recorded the song in December 1961, and dropped it in 1962.
In 1977, legendary country superstar Loretta Lynn made the song go to the top of the country charts when she recorded it for her tribute album to Cline titled I Remember Patsy. For this performance, Clarkson wore a purple off-the-shoulder gown that was belted around her waist. She showed off her raw incredible talent, which she is known for.
Some viewers were emotional and nostalgic over this performance. Memories came to several of them. One revealed that this was their mom's favorite song from Patsy Cline and she would have loved this performance. Another one shared their story about their late grandmother, who always listened to Patsy Cline's music. Here are just some more comments from Clarkson's performance:
"There are no words to describe her timeless talent."
"Kelly is amazing! Voice of an angel."
"I love this I'm a huge Patsy fan. I think Kelly should do more of her songs!"
"One word: stunning."
"I love country and you, Kelly! Especially oldies of country legend, Patsy Cline!"
Idol winner performs moving cover of "A Broken Wing" by Martina McBride
A previous "Kellyoke" segment showed Kelly Clarkson covering one of Martina McBridge's hit songs. On Tuesday's episode of The Kelly Clarkson Show, she performed an abridged version of the song. However, the two final notes at the end were enough to give viewers goosebumps. Clarkson wore a black floral print dress on the show's stage, which was lit up in red lights.
"A Broken Wing" is the second single from McBride's 1997 album, Evolution, and it became a No. 1 hit. The song tells the story of a woman who leaves an emotionally abusive relationship. James House, Phil Barnhart, and Sam Hogan penned the song.
These performances are just two of many country covers Clarkson has performed on the show. She has featured covers of Blake Shelton, Faith Hill, Johnny Cash, Lady A, Pam Tillis, Rascal Flatts, and Shania Twain, among others. Which cover is your favorite? Sound off below in the comments.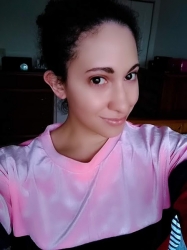 Latest posts by Chanel Adams
(see all)