Taylor Swift shocked her fans on Wednesday morning. She released the new vault song from her re-recorded album Fearless (Taylor's Version). The song titled "Mr. Perfectly Fine" is one of the six never-heard-before songs. The 31-year-old singer is gearing up for the album's re-release this Friday.
In the meantime, she's been teasing fans with her "from the vault" songs. The pop-country song has a little bit of bite with its pop-rock sound. Swift sings about the breakup with someone using some clever wordplay. Now, fans are wondering who she's singing about on the track.
All signs are pointing to Joe Jonas.
Taylor Swift releases another song "from the vault"
Taylor Swift wrote "Mr. Perfectly Fine" when she originally wrote and recorded Fearless between the ages of 16 and 18. The song was re-recorded for her Fearless (Taylor's Version). This comes after Swift released "You All Over Me," which featured vocals from country singer Maren Morris. Over the weekend, she released the full tracklist for Fearless (Taylor's Version), including the vault songs, such as "That's When" and "We Were Happy that feature Keith Urban.
"I'm really honored that @KeithUrban is part of this project, duetting on 'That's When' and singing harmonies on 'We Were Happy,'" Swift tweeted. "I was his opening act during the Fearless album era and his music has inspired me endlessly. I'm counting down the minutes 'til we can all jump into this brave world together, filled with equal parts nostalgia and brand newness. Headfirst, Fearless."
Fans are impatiently waiting for the album's release. Swift has gone back into the country music scene. It came organically with her previous releases – Folklore and Evermore – which had hints of Americana, country, and folk music. Some would also call those projects more "indie" in style to her previous albums.
Is "Mr. Perfectly Fine" about Joe Jonas?
Ever since Taylor Swift dropped "Mr. Perfectly Fine," many fans think it's about her ex-boyfriend Joe Jonas. The two dated in the midst of her original Fearless era. Interestingly enough, Jonas's wife, Sophie Turner, posted the song to her Instagram Story, calling it a "bop." Swift responded with a Game of Thrones reference.
"It's not NOT a bop," the actress wrote.
Swift reposted Turner's Instagram Story while paying tribute to her character Sansa Stark in Game of Thrones.
"Forever bending the knee to the [queen emoji] of the north," Swift responded.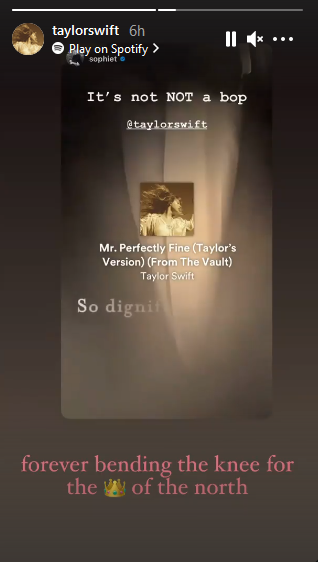 Shortly after the song's release, Joe Jonas's name trended on Twitter. Fans have a feeling this song is about the time she dated the Jonas brother. Also, Swift's tweet hinted that it was about "drama" with someone from her waking life. Her surprise release comes days before Fearless's re-release, which will drop on Friday, April 9.
Me in 2020: life is chill, writing songs based in fiction to avoid drama, feeling pretty grown up

My 2008 music from the vault, in a goblin voice: "REELEEEEEEASE MR PERFECTLY FIIIIIIINE" https://t.co/PCexr31q9x

— Taylor Swift (@taylorswift13) April 7, 2021
What are your thoughts on Swift's new song? Who do you think it's about? Sound off below in the comments.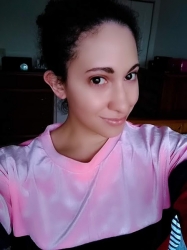 Latest posts by Chanel Adams
(see all)