Blake Shelton is sharing some of the advice he would give to his younger self. As Country Music Alley previously reported, the star has a new business endeavor. Some country fans are wondering if he keeps copying his friend Luke Bryan. The two men do lead similar careers these days.
Blake just launched his new line of hard seltzer lemonade. Now, he's celebrating the 20th anniversary of his debut single "Austin." In the meantime, fans are looking forward to the release of his new album, Body Language. However, they won't find any deeply personal tracks since he didn't write any of them himself.
Read on to find out what he would tell his younger self.
Blake Shelton jokes about his mullet from the '90s
As fans know, Blake Shelton was one of the many country artists who rocked a mullet in the early '90s. At the time, the mullet seemed kind of dorky. Generation Z is embracing all that was ugly during that time, like mom jeans and mullets. Even Miley Cyrus is rocking the hairstyle these days.
In an exclusive interview with People, Shelton shared some of his fashion faux pas. He doesn't feel that the mullet is cool, even these days. If he could tell his younger self anything, he would advise young Blake Shelton not to get the hairstyle.
"I would have told that kid, 'Hey man, the mullet's not as cool as you think it is," the 44-year-old singer joked. "And I would have told myself to get more rest back then. When I started I was 24 and lived life to the max back then. It's probably why I ran out of battery so soon."
"Austin" was Shelton's first No. 1 single on the Billboard Hot Country Songs chart. It was the very song that catapulted his career. Since those days, Shelton released 11 studio albums. His 12th album, Body Language, is set for release in May 2021. The "Minimum Wage" singer has also been on nine tours, but he wants to take it easy these days.
The Voice coach talks about his new album
Blake Shelton called himself a "slow slug." He feels "lucky" to be a coach on The Voice, so he can "sit in the red chair most of the time for a living." Now, Shelton is preparing to perform a mashup of "Austin" and "Minimum Wage" at the Academy of Country Music Awards on Sunday, April 18. All joking aside, Shelton said his upcoming album is a departure from his previous work.
"I'm really happy The Swon Brothers, who were on my team on The Voice in season four, wrote [the title track] and sent it to me," Shelton said. "It's such a different sounding song. I'm to the point in my career where I always want to try to reinvent myself. I keep one foot in traditional country but at the same time … find new sounds and new music."
However, Shelton didn't write any of the songs on this album. His fiance Gwen Stefani revealed that she's "so mad" that she can't encourage him to write music. The two have collaborated over the years on many hit duets. Their 2016 song "Go Ahead and Break My Heart" means a lot to him because it reminds him of the success they achieved together.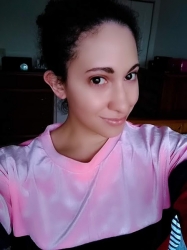 Latest posts by Chanel Adams
(see all)