Gwen Stefani enlisted rapper Saweetie for a new version of "Slow Clap." She released the single of her follow-up to "Let Me Reintroduce Myself" last month. On Friday, April 9, Stefani dropped the remix and the accompanying music video. Sophie Muller shot the video which shows the pair hanging out at a high school. The scenes cut between the gymnasium, locker room, and the basketball court.
Muller is also provided the visuals for No Doubt's "Don't Speak" and Stefani's "Wind It Up." Stefani wrote the original version with songwriter Luke Niccoli and songwriter/producer Ross Golan. She also co-wrote her December 2020 debut single with the duo. She previously revealed that she's still writing new music for her upcoming album.
Adds Saweetie to the remix
The song and video hearken back to "Hollaback Girl." It shows Gwen Stefani rocking an outfit that's similar to the iconic music video. This time around though, the No Doubt frontwoman and the rapper run around the halls in tulle dresses. Just like on "Hollaback Girl," Stefani tries her hand at rapping once again.
"Throw it back, make it twirl, make them baby hairs swirl," Stefani raps on the verse. "This is for all my icy girls around the world."
Saweetie gives a shout-out to "Hollaback Girl" with a new vibe: "I ain't no Hollaback b***h/Now I got it, I ain't gotta act rich." When it came to this new album, Stefani wanted to go back to her roots. "Slow Clap" and "Let Me Reintroduce Myself" are likely to appear on the LP, which has no name or release date. In an interview with Billboard, Stefani talk about the 20 songs she wrote for the upcoming album.
"I just had this lightbulb moment," Stefani revealed. "I was like, 'I really want to investigate when I started in music – the reggae and ska, when I first fell in love with music, when it defined who I was. I really want to do happy music, that's where it all started.' Once I got into that mode, it was like a wildfire, because every person I went in with, we were just so inspired and excited to be doing that kind of music."
Twitter misses the old Gwen Stefani
The internet is not impressed with this song. When they heard that Gwen Stefani was returning back to her roots, they were hoping that she was returning to her No Doubt days. As everyone knows, the internet does not hold back on its feelings. On Friday morning, Stefani's name was trending because of her new music video and not for all the right reasons.
The internet had a good laugh at her expense. Here are is just a small portion of the reaction:
"Why Gwen 50 still making videos in high schools?"
"gwen stefani's obsession with high school gyms."
"not someone saying the new saweetie and gwen stefani song sounds like a disney channel song."
"If you're going to resuscitate cultural-appropriating Gwen Stefani, at least make it good."
When I said I missed Gwen Stefani, I was talking about this version pic.twitter.com/rVAgu6ita5

— brandi ackerman (@beyingram) April 9, 2021
Fans are disappointed to see there is no growth in Stefani's music. They were hoping that she would go back to her Tragic Kingdom or Love. Angel. Music. Baby. days. What are your thoughts on Stefani and Saweetie's music video? Sound off below in the comments.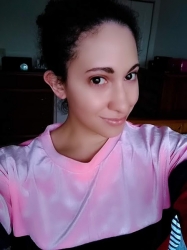 Latest posts by Chanel Adams
(see all)