Kelly Clarkson has gone missing on The Voice. Fans wanted to know what happened to the coach. Kelsea Ballerini filled in for her during the Battle Rounds. However, she did make a brief appearance to reveal which song she will not perform. According to a new report, Clarkson will be making a return soon.
The "Behind These Hazel Eyes" star revealed that she'll return to the singing competition show next week. That means she'll be back to her rightful place starting Monday, April 12. Clarkson will return to her chair alongside fellow coaches Blake Shelton, John Legend, and Nick Jonas.
Kelly Clarkson will return before the Knockout Rounds
Kelly Clarkson will return to her big red chair before her team competes in the Knockout Rounds, which will reduce her team even further. She will also make an appearance during the last part of the Battle Rounds. According to heavy.com, Clarkson's team includes Avery Roberson, Corey Ward, Gihanna Zoe, Ryleigh Modig, and Savanna Woods.
Ainae, Anna Grace, JD Casper, and Kenzie Wheeler still have to battle it out on the stage. Coaches will narrow down the remaining contestants before the live shows, where the contestants will compete for the viewer's votes rather than the decisions made by the coaches. While Clarkson was absent, Ballerini kept the feud between her and Blake Shelton alive.
The Voice coach was missed by her fans
Kelly Clarkson was greatly missed by viewers at home. The daytime talk show host made the announcement about her return on Twitter following The Voice's latest episode.
"You are doing such an amazing job @KelseaBallerini!" Clarkson tweeted. "Thank you for taking great care of #TeamKelly for me See y'all next week! #TheVoice."
Clarkson's fans were excited to hear the news of her return. They took to her tweet to share their thoughts. "We miss you being there, Kelly. But Kelsea is doing a great job on your behalf!" one fan wrote. "I love that y'all are friends. She's a great fill in, KC! They need to get her a chair fan," a second user wrote.
Kelsea helped Clarkson's team advance during the battle rounds. While it's sad to see Ballerini leave, fans are happy to see Clarkson return soon. She'll need to keep her team strong if she wants to beat her fellow coaches this year. Next season will include even more rivalries.
Earlier this month, news broke that Ariana Grande will join the show as the next coach, replacing Nick Jonas.
"Ariana is a huge fan of The Voice and her management team has been negotiating to get her on the show for a while," a source told Page Six. "She is replacing Nick Jonas, who is a [coach] on the current season, but he isn't leaving for good. Nick will remain on rotation with other stars that have appeared on the show. The chances are he will be back soon."
What are your thoughts? Are you looking forward to seeing Kelly Clarkson return to the show? Sound off below in the comments.
The Voice airs Mondays at 9 p.m ET on NBC.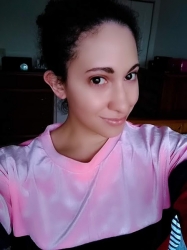 Latest posts by Chanel Adams
(see all)