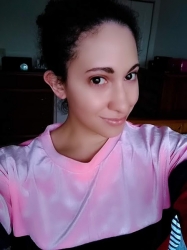 Latest posts by Chanel Adams
(see all)
Kelly Clarkson will have you thinking differently about trash cans. As fans know, she loves to get candid and she loves a good story. It's part of the reason why she has her successful daytime talk show, The Kelly Clarkson Show. Nothing is out of bounds or is inappropriate for the singer.
On the Thursday, April 8 broadcast of her talk show, the 38-year-old spoke to country music legend Clint Black. During their conversation, Clint talked about the latest episode of his talk show, Talking in Circles with singer Sara Evans. In a recent episode, Evans shared a story about her involving her need to urinate during a concert.
That's when Clarkson shared her own "TMI" story.
Kelly Clarkson revealed the time she "destroyed" a trash can
Clint Black asked the audience, "How many of us haven't peed on stage?" It's common for artists and bands to have the case of the go's in the midst of their concerts. Kelly Clarkson was ready to top Clint's story. No one was prepared for what she had to say next.
"Well, I'll tell you right now, there was one time – it wasn't pee, my friend," she admitted. "I got some kind of wrecked up from some kind of food. We were in an arena – and I shouldn't tell this story, but like I said, my man, I don't have a filter."
That wasn't the end of Clarkson's story. She then revealed that she had to "run backstage" to her "quick-change." Then, she "grabbed this poor trash can" and "destroyed it." Clarkson joked that they might have to edit this part out of the show, but it's all on video.
Clint politely smiled throughout her story of the embarrassing ordeal. "I'm just trying to visualize – hang on," he joked, leading Clarkson to crack up. She admitted that she didn't have a "filter" during their conversation, so she warned everyone. You can check out the rest of her story and their interview in the video below.
The American Idol host has no filter
This isn't the first time that Kelly Clarkson joked about having no filter. When she hosted the 2018 Billboard Music Awards, she told TODAY that she was worried about what she was going to say. She typically gets the jitters during awards ceremonies. This leads Clarkson to blabber anything.
"I have this nervous thing. Even if we planned something, I look at the prompter and say something totally different!" she said. "I don't know what it is; I know how to read. I get nervous and then I just ramble about things I probably shouldn't talk about. I'm actually very nervous because I have no filter!"
Fans agree that Clarkson did an excellent job hosting the awards show. And they agree that she's also the perfect talk show host. Her candidness and personality make her perfect for the job. Of course, fans love Clarkson's "Kellyoke" segments the most.