Previously, Country Music Alley talked about the time when Carrie Underwood appeared with her mom in one of her music videos. Now it's time to talk about the emotional song she wrote about her dad. "The Girl You Think I Am" was the 2015 song from her album, Storyteller. Before she sang Christmas music and gospel hymns, the singer would talk about her family life and upbringing.
On the track, she talked about not feeling as good as your parents think you are. It was the realization that she made as a younger child. However, that turned into a lesson about unconditional love. She inspires to be like her dad, Stephen.
The story behind "The Girl You Think I Am"
Carrie Underwood previously explained the story behind the song. She shared a time when her father had some kind words for her.
"He thinks I'm brave," she said, as quoted by Outsider. "He thinks I'm beautiful, he thinks I can do anything, he thinks I'm fearless, and he is my biggest fan."
That became the story of her song. Underwood co-wrote the song with David Hodges and Hillary Lindsey. At the time, she was trying to tell her story, as Hodges and Lindsey shared theirs as well. They tried to come up with a story that all applied to their respective fathers.
"When we were writing it, myself and Hillary Lindsey and David Hodges, we were all channeling our own experiences and there are certain lines that apply to our fathers," Underwood explained to People Magazine, according to Songfacts. "Anybody that knows my family will probably be able to very much pick out the lines that are about my dad. And it's about how great a father is in a daughter's life."
During the songwriting process, Underwood recalled a time when she was 14, and her father complimented her after dinner. It just came out of nowhere. She remembers him being the type of "guy to give out compliments like that freely." However, those words meant a lot to her and changed her day around.
Carrie Underwood wrote a song about her mom
As fans know, Carrie Underwood has a way with words. She often writes about her life, including her relationships and her faith. The "Soft and Tenderly" also wrote a song about her mother as well. Underwood's hit song "Mama's Song" came out in 2009.
"So many people might not even know that their parents put them on a pedestal," Underwood explained the song about her father to People. "When I realized that, I was just kind of like, 'Oh my gosh, he just thinks I'm better than I actually am.' I want to be the person he thinks I am.'"
Now that Underwood is a mother, she wants to share that unconditional love with her sons. She hopes that they are as proud of her as she is of them. Isaiah recorded a song with his famous mom on her Christmas album, My Gift. What are your thoughts on her song "The Girl You Think I Am"? Sound off below in the comments.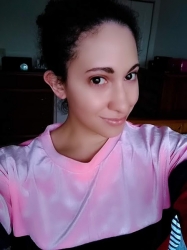 Latest posts by Chanel Adams
(see all)