Miranda Lambert continues to help dogs in need with her latest MuttNation campaign. The country singer is passionate about pet adoption – especially when it comes to senior dogs. Most animals are left behind due to a lack of care or superstition. Others feel that it's too expensive to care for an animal.
However, the "Bluebird" singer uses her platform to care for black dogs, pit bull mixes, senior dogs, and those with disabilities. Miranda launched her new Love Harder campaign through her non-profit MuttNation. She wants to bring awareness to these issues and break the myths surrounding them. Her organization's mission to help pets find forever homes.
Miranda Lambert focuses on dogs most need of adoption
On Thursday, April 8, Miranda Lambert posted a video of herself talking to Emmylou Harris. The two ladies shared their experience with adopting a senior dog. Miranda feels that senior dogs deserve as much love as puppies. That's the message and mission behind her Love Harder campaign.
"The truth is these dogs are the easiest to love, maybe because they need us the most," Miranda said. "But with so many misconceptions, people sometimes shy away from adopting them. I want people to see the strong bonds and the special love that can be shared with these harder-to-get adopted dogs."
Miranda founded MuttNation with her mother Bev Lambert in 2009. Since then, they have helped many dogs find loving homes and have raised thousands of dollars. The latest video shows Miranda talking to Emmylou Harris and her senior dog with disabilities, Jeter. As part of her Love Harder campaign, Miranda will have "video visits" each month, in addition to television, radio, and PSA campaigning throughout the year.
"I'm asking anyone who has adopted or is fostering a senior dog, a dog with disabilities, a pit mix or a wonderful big black dog, to send us their pictures and stories," Miranda continued, "and help paved the way for others who may be considering giving one of these great pets a second chance and a forever home."
Also, pet owners will have a chance to win a MuttNation Epiphone guitar signed by Miranda herself. They must enter the contest by uploading a photo of their dog, along with a message about why they adopted their "easy to love, harder to get adopted" dog and what makes them special.
Was the country singer the muse of Blake Shelton's song?
Speaking of dogs, some fans are wondering who's the muse behind Blake Shelton's "I'll Name The Dogs?" – Miranda Lambert or Gwen Stefani. Fans speculated the story behind Blake's hit song as it talks about settling down with someone. Blake and Miranda used to be married. They wed in 2011 but sadly announced their divorce in 2015.
Since then, Blake found love with Gwen Stefani. The two met on the set of The Voice. At the time, they were both going through their respective divorces and have dated ever since. In October 2020, Blake popped the question and they're gearing up for their summertime nuptials.
However, this song may not be about either Gwen or Miranda. The story lies behind the songwriter's dilemma with choosing a name for his unborn son. Songwriters Ben Hayslip, Josh Thompson, and Matt Dragstrem were choosing a name for Josh's son. Instead, they ended up with a hit on their hands.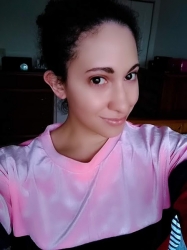 Latest posts by Chanel Adams
(see all)