Miranda Lambert has a big heart and it shows. The superstar donated $15,000 to 15 animal shelters. Since 2009, her MuttNation Foundation has been dedicated to providing happy and safe homes for rescue animals. One of the organization's missions is to help shelters with pet adoption.
On Tuesday, December 1, MuttNation announced that it has plans to expand its Share the Love program. At the time, they were taking nominations for local rescue shelters that could apply for one of the 15 MuttNation Foundation $1,000 grants. This week, MuttNation announced the happy news with its followers. Read on to learn more.
Miranda Lambert donates to local animal shelters for Valentine's Day
MuttNation plans to announce the 15 lucky winners just in time for Valentine's Day. In a statement  shared with People, Miranda Lambert said that "Shelter pets the people who care for them have the biggest hearts." It's the reason why she wanted to spread the love on Valentine's Day. Since the announcement, over 14,000 participants took part in this year's Share the Love program.
Ever since it started three years ago, it increased in the number of participants from previous years. The organization only received 500 in 2018 and 2,000 in 2019. Fans can check out the complete list of the 15 winners from the $1,000 MuttNation Share the Love grants. The top three winners include Abandoned Animal Rescue of Magnolia, Texas, Angels Among Us of Alpharetta, Georgia, and Black Dog Rescue of Cheyenne, Wyoming.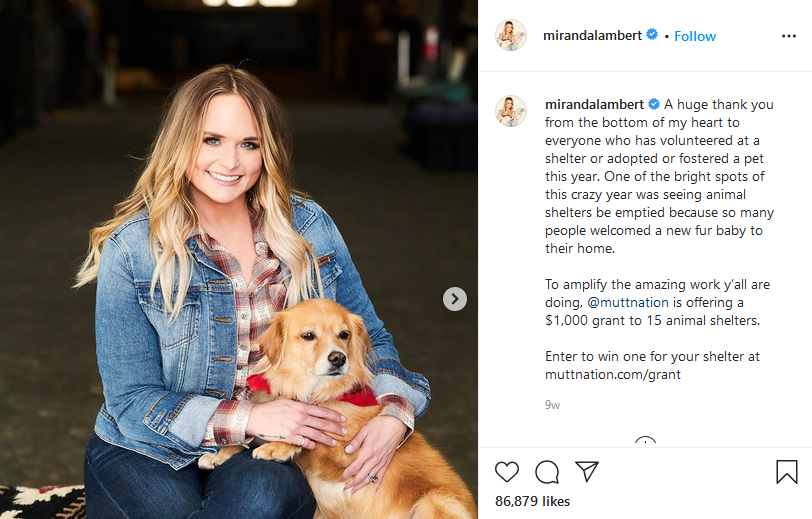 "It's amazing to have such an overwhelming response to our program," Miranda said in her statement. "The number of people who participated demonstrates the commitment and value that community members provide to their local shelters. And, especially given how difficult this year's been – it just means so much."
Miranda has volunteered with animals ever since she was a teen. Now, she's a proud mom to several rescue animals, including cats, dogs, horses, and rabbits. She told the publication that her furry friends are "doing well!" The country star has enjoyed her time at home amid the ongoing coronavirus pandemic.
Country singer talks about her love of animals
Miranda Lambert has been staying "grounded" during these challenging times. She says that her pets "help keep things in perspective." She loves being at home with them more, even though she misses touring as most country artists do. But seeing them puts a smile on her face.
The "Little Red Wagon" singer hopes that MuttNations' work along with her experience with rescue animals will encourage more pet adoptions. Miranda noted the stereotypes associated with mixed breeds. Even some people are reluctant to adopt older pets. But she feels that everyone deserves a second chance and a loving home.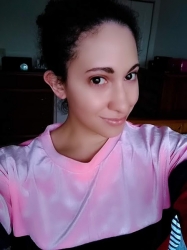 Latest posts by Chanel Adams
(see all)