Kelly Clarkson kicked off this week with a pop hit. Last week, the singer gave her take on several country hits. However, she sang with every emotion in her body with her latest "Kellyoke" hits. Backed by her band Y'all, she kicked off the show with a rendition of Dido's hit single "White Flag" on Monday, April 12.
She took the 2003 smash hit from the British pop star's album, Life for Rent. "White Flag" was the lead single from her sophomore album. This song is considered one of Dido's best songs. As a result, Life to Rent sold 10 million copies worldwide.
Kelly Clarkson does not want to surrender
The Voice coach stepped out on stage in a long black dress. Kelly Clarkson sang the song softly before gradually showing off her vocals as the song went on. The stage lights behind her flashed from gold to silver as she sang her way through the cover. On the track, the slow-burn peaks with the line, "I will go down with this ship."
According to Dido, the song is about a love that doesn't die, even long after the relationship ended. In a 2013 interview with HuffPost Live, the English singer-songwriter said she wrote the song after her split from her ex-fiance. To this day, Dido never got tired of singing the song. Clarkson sang the song with so much power and emotion, which is why fans love her "Kellyoke" covers.
The original version was nominated for a Grammy award. It has also been featured in many television shows, such as The Medium, Smallville, and The Sopranos. "White Flag" went to No. 18 on the Billboard Hot 100 chart. Fans alike agree that it's one of Dildo's signature songs, as it still sounds fresh and modern to this day, despite being released 18 years ago.
Another "Kellyoke" cover becomes a hit
Fans loved hearing Kelly Clarkson perform Dido's hit song. They're in agreement that it was a very moving performance. These segments have become the most popular component of The Kelly Clarkson Show. Every day, viewers tune in to see what the American Idol alum will perform at the start of the show. Here are just some of the positive comments she got from this performance alone:
"I've rarely heard singers who can emote the way she does. Almost sounds as if the words are bleeding through her voice."
"Kelly just took it to a whole new level (so) that it's untouchable from now on. Dido must be very proud with Kelly's version."
"Ok white flag is one of my favorite songs ever. I wasn't expecting Kelly's version to be so haunting. She brought a different energy. I love."
"This felt like an awards show performance song, the look, the dress."
"These vocals are seriously incomparable."
In fact, there haven't been any complaints about Clarkson's covers. Dido has not yet responded to this cover, but there's no doubt that she'll love it. What are your thoughts on Kelly Clarkson's latest cover? Sound off below in the comments.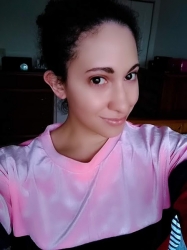 Latest posts by Chanel Adams
(see all)