Fans have a feeling that Taylor Swift will release 1989 (Taylor's Version) next. All signs point to yes. As fans know, the singer loves to drop hints when it comes to her music and upcoming projects. She had a lot of Easter eggs leading up to the release of Fearless (Taylor's Version).
On Friday, April 9, the album finally dropped. The re-released version of the 2008 album, Fearless, shows Swift going back to her country roots. On the new version, she finally gives the full version of Fearless as she wrote it and recorded it. Now, Swifties noticed that she left hints for her 2014 album in her latest Late Show appearance.
'1989 (Taylor's Version)' coming out this summer?
Taylor Swift made an appearance on Late Show with Stephen Colbert. She starred in the segment aptly titled "Taylor's Version" in which she denied that "Hey Stephen" is about the late-night show host. Swift joked that it was dedicated to Stephen King while revealing a mood board. During the bit, she made a reference to 1989 and "Shake It Off," the album's debut single.
Swifties also noticed other hints. She mentioned New York, which could be a reference to "Welcome to New York," the opening track in 1989. Swift also cracked jokes that she is obsessed with Colbert, reciting some unknown facts about him. She also admitted that she reads his Wikipedia page.
Swift mentioned that his birth date is May 13. Some Swifties think that she'll drop the first revised single from the re-released 1989 album. Others think that she'll make an announcement about her next project on that date.
These clues may seem off to the casual fan, but Swift has left embedded clues that were true before. She previously left intricate hints about Fearless (Taylor's Version) on social media. Fans previously heard a snippet of the re-recorded version of "Wildest Dreams," a track on 1989, in the trailer for the new animated film Spirit Untamed. This could mean that Swift is already working on that album.
Taylor Swift may have dropped other clues
Taylor Swift is already working on taking back control of her previous six albums. But her re-released Reputation album may not be for another year. Fans noticed that she dropped more hints in her recent appearance on Good Morning America. During the interview, she wore heart earrings that resembled the ones in her "Blank Space" music video.
During her promos for Fearless (Taylor's Version), she wore a lot of florals, which could be a reference to the "Blank Space" lyrics, "Rose gardens filled with thorns" and "Wildest Dreams" lyrics, "Red lips and rosy cheeks," according to Yahoo Entertainment. Most of the tracks and visuals from that album era have references to flowers and trees.
Fans also noticed that Genius.com created a web page for 1989. It now says 1989 (Taylor's Version). The description says: "'1989 (Taylor's Version)' is expected to be the second re-recording from Taylor Swift on 2021."
1989 BESTIES ARE WE SEEING THIS RIGHT pic.twitter.com/FB32RAxaio

— ava | 1989 IS COMING (@thislllove) April 9, 2021
What are your thoughts? Do you think Taylor Swift will release 1989 (Taylor's Version) this year? Sound off below in the comments.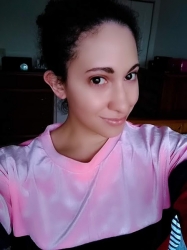 Latest posts by Chanel Adams
(see all)