Carrie Underwood may put fans to shame. The country singer kicked off the workweek by heading to the gym. Fans already know that she's dedicated to her fitness. Carrie loves health and wellness so much that she turned it into a successful brand.
Calia by Carrie is one of the top-selling brands at Dick's Sporting Goods. The "Soft and Tenderly" singer just celebrated the seventh anniversary of Calia. In a previous post on Instagram, Carrie teased that her journey is just beginning. There's more to come to the Calia brand, including swimsuits.
She recently showed off her taut abs, in which she got from this workout.
Carrie Underwood demonstrates knee tucks
On Wednesday, April 14, Carrie Underwood starred in a new workout video for her Fit52 mobile app. Fit52 is based on her book, Find Your Path: Honor Your Body, Fuel Your Soul, and Get Strong with the Fit52 Life. In the latest video posted on the company's Instagram page, she performed perfect seated knee tucks in olive green leggings and a black tank top. Carrie kept her legs up in the air as she counted her reps.
"This move is a CLUB, and that means CORE! ♣️ Work the centre of your body with Seated Knee Tucks–a beginner-friendly, but big impact move that'll develop your core, improve balance, and build your overall strength," the caption read.
In the carousel, there's a video of Carrie performing the exercise. It also explains how to properly do a seated knee tuck without the need for a personal trainer. The caption reminds followers to "keep your back straight and relax your jaw, too." Carrie's fans took to the Instagram post to exclaim how much they love this move.
"Wow! Always Love to Do This Sometime!"
"I love these!!"
"Did some today! They are so effective!"
"My favorite!!"
"Feel the buuuuuurn."
This comes amid the weight loss worries. Some of Carrie's fans feel that she's losing too much weight. One fan was concerned that she has anorexia. Carrie has shared her experience with an eating disorder during her American Idol days.
Sparks concern in gym selfie
Carrie Underwood doesn't usually show off her incredible body on Instagram. Country Music Alley previously showed her rare bikini photo. On Monday, April 12, the "Southbound" singer shared a no-makeup gym self, which had fans wondering if she's losing too much weight. One remark did not go over well with the singer and was later deleted.
The new shot posted on her Instagram shows her wearing a light blue sports bra and matching leggings. It also gives fans a glimpse at her hard-rock abs. Carrie posted in braided pigtails and pointed her finger upwards. She wished her followers a "Happy Monday," writing: "Hope you all have an amazing week! Starting off the week right with a @fit52 workout! Who's with me? #MondayMotivation."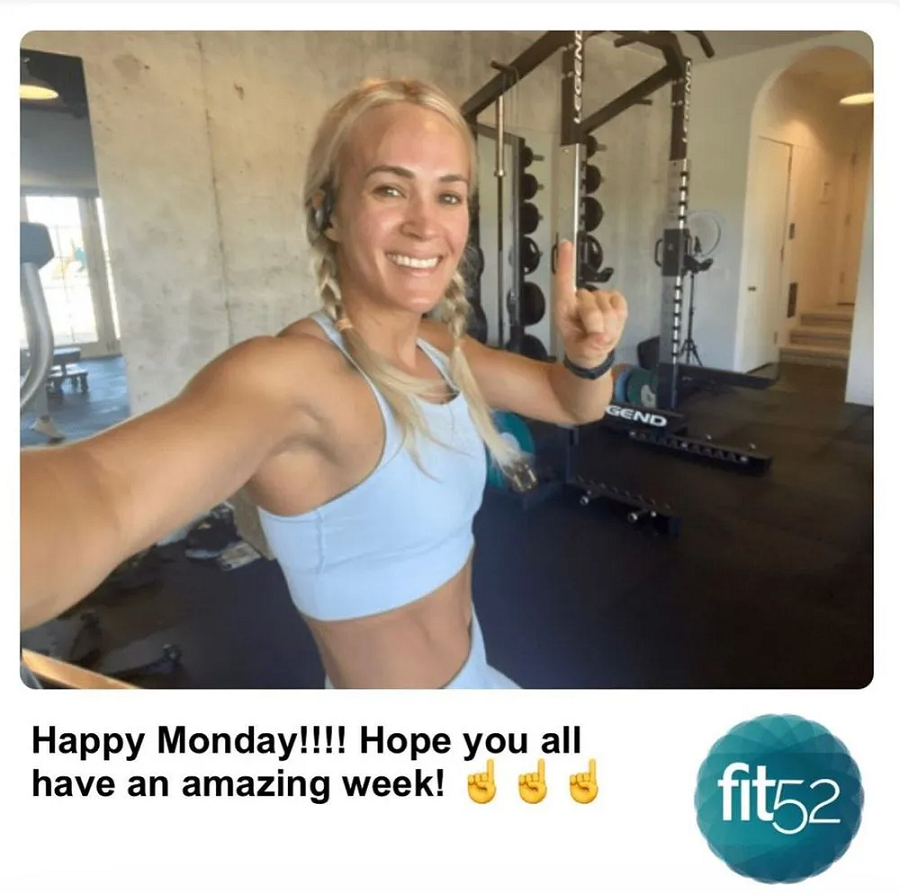 Most fans agreed with her. However, one troll commented: "You borderline look like you have anorexia." The comment has since been deleted, although it's unclear whether Carrie or the user removed it. Others complained that she's starving for attention by posting a gym selfie.
Carrie continues to ignore her haters. She shares her workouts whether they like it or not. Also, the singer likes to stay positive with her uplifting music. Her new album, My Savior is out now.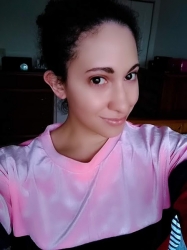 Latest posts by Chanel Adams
(see all)