Kelly Clarkson is showing fans what a girl wants. On the Thursday, April 15 broadcast of The Kelly Clarkson Show, she performed her rendition of Christina Aguilera's "What a Girl Wants." Clarkson and her band Y'all performed the hit song in her latest "Kellyoke" segment.
Check out the powerful performance
At the top of the show, the American Idol alum sang "What a Girl Wants," the 1999 single off of Christina Aguilera's self-titled studio album. The song went to the top of the Billboard Hot 100 and spent 24 weeks on multiple charts.
Fans were excited over this cover on early Thursday morning. Some of them are waiting for Christina Aguilera and Kelly Clarkson to collaborate sometime. They feel that the women's voices go so well together. It would be just as epic as when Aguilera performed with Lady Gaga.
"Can't wait for a Kelly and Xtina collab."
"She performed it in a higher key than the original. That's a risk some singers might take."
"Kelly Clarkson = One of the best singers ever, no matter [which] song it is!!!"
"Kelly made me forget the original version. She's so good."
"Girl could sing ingredients on the side of a box [and] make a hit."
Fans are running out of adjectives to describe Clarkson's performances. They tune into her "Kellyoke" segments regularly and love whatever she sings. There are hardly any complaints when it comes to her "Kellyoke" segments. Fans still love Clarkson's rendition of Gwen Stefani's "Just a Girl," but they have a feeling this will be a close second.
Clarkson has covered countless other covers on The Kelly Clarkson Show. She recently performed Dido's "White Flags," The Chicks' "Gaslighter," and LeAnn Rimes' "Blue." The singer has been covering a lot more country songs lately, which has made country fans proud. Clarkson continues to show pride in her Texan roots.
Kelly Clarkson got this Christina Aguilera song
Kelly Clarkson and Christina Aguilera are two of the most powerful voices in pop music. So, it would make sense that Aguilera co-wrote one of Clarkson's hit songs. However, Clarkson wasn't aware of Aguilera's involvement with the song. Aguilera was not happy with the situation that led to Clarkson eventually recording the song.
According to Digital Spy, Destiny's Child first received a demo of "Miss Independent," which later went to Christina Aguilera. She then re-wrote some of the song's lyrics, to make it even more powerful. She wanted the song for her sophomore album, Stripped. Then, she took the album in a different direction and chose more mature songs such as "Dirrty," "Beautiful," and "Fighter."
Aguilera never finished recording "Miss Independent." Rhett Lawrence gave "Miss Independent" to Kelly Clarkson without Aguilera's consent. Clarkson loved Aguilera's music but she did not know that Aguilera wrote the song. As for Aguilera, she was unhappy to learn about this recent development.
She wished that her team was more transparent. But she did not feel any resentment toward Clarkson. She loved Clarkson's version of "Miss Independent." The song hit No. 9 on the Billboard Hot 100 and was Clarkson's second single following her hit ballad "A Moment Like This."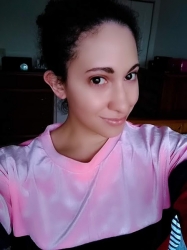 Latest posts by Chanel Adams
(see all)