During the Tuesday, April 13 broadcast of The Kelly Clarkson Show, she covered The Chicks' "Gaslighter." The performance took place on her hit morning show. For this performance, the singer wore a long black cardigan over a black blouse and a red maxi skirt as she stepped behind the microphone stand. This "Kellyoke" performance will have you stomping your feet at your desk. The singer also made sure to get in a few digs at her ex-husband, Brandon Blackstock.
Sings "Gaslighter" by The Chicks
"Gaslighter" is the single from the eighth studio album by The Chicks. The trio released the song on July 17, 2020, and is the title track of their most recent album. It's the group's first album in 14 years since they were blacklisted by the country music industry. It was also the first album under their new name. The album included the release of their other two singles: "March March" and "Julianna Calm Down."
Kelly Clarkson played a foot-stomping rendition of it on Tuesday. She rolled her eyes as she sang along to the lyrics which interestingly talks about the end of a marriage. Fans noticed that she threw shade at her estranged husband, Brandon Blackstock, at the 30-second mark. Clarkson and her band Y'all were in perfect harmony as she sang her heart out.
It's her first country cover this week. Yesterday, she performed a moving and haunting rendition of "White Flag" by Dido. It was just as emotional as this performance. Clarkson held her composure as she sang the iconic chorus of the song. Her raw emotion and vulnerability shined through in that performance, which was applauded by fans. Clarkson continues to brighten the day of viewers, who tune in to see her "Kellyoke" performances throughout the week.
You know it's gonna be a good day when Kelly covers @TheChicks 🙌 #Kellyoke pic.twitter.com/yaeDMvIhMr

— The Kelly Clarkson Show (@KellyClarksonTV) April 13, 2021
Kelly Clarkson makes Tuesday even better
Of course, fans loved this rendition of "Gaslighter." Many of them took to the YouTube page to share their thoughts on this later cover. Most of them talked about her dig towards Blackstock. One fan wrote: "Someone on twitter wrote 'she ain't playing around with the Blackstocks this week!' and I am dead let 'em know Kelly! Let. Them. Know." Meanwhile, others have been waiting for Kelly Clarkson to perform more songs by The Chicks.
"I've been waiting for Kelly to cover this song since it came out!"
"I think The Chicks should be on the show I love their older hits."
"Gaslighter is an amazing song and album! Thanks Kelly and band for covering these legends."
"I've been rocking out to the Chicks newest album all week..this is my favourite on the album. Thank you Kelly for this epic cover!!!"
"Love the Chicks and LOVE Kelly's and the Bands [sic] performances of this GREAT song!!! Wow!!!!!!!!"
Fans especially love it when Clarkson puts her twist on each song. They could tell that she was singing her heart out during this performance. What are your thoughts on her cover of "Gaslighter" by The Chicks? Sound off below in the comments section.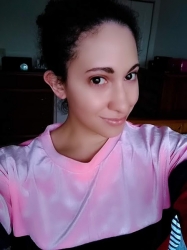 Latest posts by Chanel Adams
(see all)