Kelly Clarkson and her musical director Jason Halbert got together for this special "Kellyoke" performance. During the Wednesday, April 14 broadcast, the two sang their rendition of Sinéad O'Connor's rendition of "Nothing Compares 2 U" by Prince. Clarkson's soulful voice was made for this song. "Kellyoke" has become the bright spot in many people's days.
It's the one segment that they look forward to amid the ongoing pandemic. The singer looked powerful in her black mini dress, which featured puff shoulders and a high neck. Clarkson kept her looked simple with jewelry and ankle boots, as she always does. She sang her heart out as Halbert sat at the piano and played the song.
"Nothing Compares" to this Sinead O'Connor cover
Kelly Clarkson gave her audience the chills. The cover started with Clarkson stepping onto the darkened stage. She stood behind the microphone stand and jumped into the nearly 2-minute version of the song. Halbert accompanied her on the piano as she sang the aching lyrics that showed off her raw and powerful emotions.
"It's been seven hours and 15 days/Since you took your love away/Since you've been gone I can do whatever I want/I can see whomever I choose," Clarkson sang before letting her voice out on the chorus. "But nothing, I said nothing can take away these blues/Nothing compares/Nothing compares to you."
Sinead O'Connor recorded her version of Prince's song. "Nothing Compares 2 U" was the second single from her sophomore album, I Do Not Want What I Haven't Got. It was this very song that gave the Irish singer critical acclaim. O'Connor earned three Grammy Award nominations in 1990.
"Nothing Compares 2 U" spent 21 weeks on the Billboard Hot 100, where it peaked at No. 1 in April 1990. According to The Kelly Clarkson Show's Twitter account, model and actress Ruby Rose's mother made the song request. Both celebrity guests and viewers can make a request on which song they want Clarkson to perform.
Nothing Compares 2 #Kellyoke 🙌 Shoutout to Ruby Rose's mom for this special request! pic.twitter.com/IxUnINO6z0

— The Kelly Clarkson Show (@KellyClarksonTV) April 14, 2021
Kelly Clarkson continues to win fans over
Fans agree that nothing compares to this cover. Kelly Clarkson and her band Y'all, along with Jason Halbert, killed this rendition of "Nothing Compares 2 U." Prince originally wrote the song for his side project, The Family. "Nothing Compares 2 U" is such a classic song that it became a worldwide hit, earning the "#1 World Single" at the Billboard Music Awards.
"It's always magic when it's just Kelly and Jason at the piano."
"I dunno why this woman can sing any songs even of different genres. This is the epitome of a real singer."
"So Prince wrote this song. Sinead made it famous. Chris Cornell did an AMAZING COVER. And now Kelly has as well!"
My Queen…is so magical. How she sings anything so breezy like that? So rude. This woman is totally blessed."
"She's got the best voice."
Clarkson previously covered Dido's "White Flag," LeAnn Rimes' "Blue," and Matchbox Twenty's "3AM." What are your thoughts on her rendition of "Nothing Compares 2 U"? What would you like to see her perform next? Sound off below in the comments.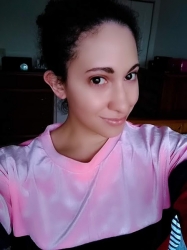 Latest posts by Chanel Adams
(see all)