Long before Carrie Underwood hid her face from the world, she hid something else. For seven years, the general public didn't know that she changed this one part of her appearance. The country superstar revealed that she wore braces for months without anyone knowing. Earlier this month, she sat down for an exclusive interview with Women's Health for their special segment called "Body Scan."
The "Jesus, Take the Wheel" singer shared her experience with braces as a teenager. Carrie had a good laugh when she recalled the time when she wore braces. It's hard to believe because the singer has perfect teeth. Yet, there was a time when she didn't wear her retainer often, so her teeth started to shift as a result.
How Carrie Underwood managed to hide her braces from the world
Carrie Underwood had to get her teeth corrected. By that time, she already achieved fame from her time on American Idol. The "Soft and Tenderly" star said that no one realized that she wore braces on her lower teeth. She was able to hide it for at least three months, even at red carpet events.
"I went to an orthodontist and I was like, alright, we've gotta make this quick. It's such a little thing, but it's only going to get worse, so let's fix it now," Carrie Underwood told Women's Health, according to Outsider. "And he did, in like three months. So there was a period of my life that nobody knew I had braces on the bottom for like three months."
Seven years later, no one still knew about that until now. In the special segment with the outlet, Carrie also shared her thoughts on confidence and pregnancy. Her favorite thing about her body is "the strength that it possesses," which she needs to keep up with her two sons. Carrie's least favorite part of her body is her midsection, but she's learned to accept the "powerhouse of her body."
Back to the time when the singer would hide the injuries from her accident
A few years ago, Carrie Underwood hid her appearance again for three months. Before her return to the public, she warned fans that her face "might look a little different" after her "gruesome" facial injury. Some claimed that she made an overhyped return to the Academy of Country Music Awards, as it was her first time in the public eye. At the time, Carrie only shared partial photos of her face and had fans wondering what she looks like.
In an interview with Sirius XM, Storme Warren noted that she must've felt nervous before the ACMs as she performed her new single "Cry Pretty" since her appearance was a set up for her "big reveal." But for the singer, it was a pretty big deal since her appearance is part of her fame.
"It was unintentionally that way," Carrie explained. "I was clumsy and I tripped, and I held on to the dog leashes in my left hand and went to catch myself with my right and missed the step. There's one lone step. If I had fallen anywhere else, I would have been absolutely fine."
She realized she hurt her lip and hand but was shocked when she looked in the mirror. The result of her injuries included a chipped tooth and damage around the mouth which required 40 to 50 stitches. Carrie also broke her right wrist. Cry Pretty was her last country album, but she recently teased that new music is on the way.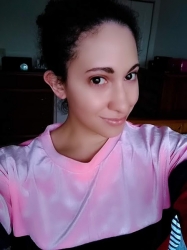 Latest posts by Chanel Adams
(see all)