Carrie Underwood just released My Savior, but she's ready to make more music. The country superstar said she still has "the spark" to make new music, but she has to see "what's in the tank" first. That could mean the Grammy-winning singer will be making a return to country music. Fans have been wondering when Carrie will release another album.
It looks like they're taking whatever she's singing. As Country Music Alley previously reported, Carrie's new gospel album, My Savior, debuted at the top of the charts. Not bad for a first-time gospel singer. Now, the singer is teasing new music and whether she'll go in another direction.
Is Carrie Underwood working on a new album?
After releasing My Savior earlier this month, Carrie Underwood sat down for a new interview with CMT's Cody Allan. The 35-year-old said that she's found "the spark" to "see what's in the tank" when it comes to a new album. Carrie just can't wait to get back into the recording studio again. She's been creatively inspired ever since she released her first-ever Christmas album, My Gift, last year.
"I was kind of waiting to get that spark, you know? Like, when I am gonna feel like, 'Ah! Let's do this!" Carrie exclaimed. "I feel like last year was so unsure. Nobody knew where the world was headed. I was so blessed to have Christmas music to work on and then [My Savior] to work on. Like we started working on My Savior before My Gift was even released."
The "Cry Pretty" singer says she still has "that spark" in her. She wants to get back into the recording studio "once the dust settles from [My Savior, which is a] very exciting project for me." On Easter Sunday, she held a live stream concert that featured gospel artist CeCe Winans and NEEDTOBREATHE's Bear Rinehart. Carrie helped raised $112,000 for Save The Children via her virtual event from the Ryman Auditorium.
How she made a gospel album in challenging times
Previously, Carrie Underwood talked about making a gospel album during the pandemic. The singer knew that she wanted to bring some inspiration and hope to her fans. So much happened in 2020 that people wanted to move on from that year. Most wanted to hide, while others wanted to turn these negatives into a positive.
Carrie was one of those people who saw the positive in a difficult situation. In her interview with 101.3 KFDI, she noted that "everyone's lives were changed and affected in some way." Before the pandemic, everyone was so busy and then the world came to a halt. For someone like Carrie who's used to being on tour, she felt "fortunate to go into the studio" and record the collection of Christian hymns.
The "Soft and Tenderly" singer hopes that her fans will feel "hopeful" and "peaceful" after listening to this album. She's "so blessed" to have something positive to work on. She calls the album a "source of joy in a terrible year." My Savior is out now in stores and on all streaming platforms.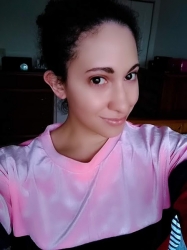 Latest posts by Chanel Adams
(see all)