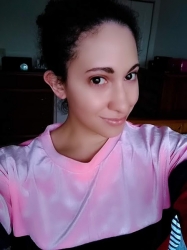 Latest posts by Chanel Adams
(see all)
Gwen Stefani is celebrating the 25th anniversary of "Don't Speak." It's hard to believe but it was the early '90s when No Doubt blessed people with this song. At the time, Gwen was a rock girl icon. The emotional song came from the band's third studio album, Tragic Kingdom.
No Doubt was just at the height of their popularity. Gwen and her brother, Eric Stefani, originally wrote the song as a love song. After several rewrites, it became a breakup song about her bandmate and ex-boyfriend Tony Kanal. Gwen was inspired to write the track after he ended their seven-year relationship.
Gwen Stefani commemorates "Don't Speak"
On Thursday, April 15, Gwen Stefani took to Instagram to share a photo and clip from her No Doubt days. She told her fans that it's the 25th anniversary of "Don't Speak." That song forever changed music and put No Doubt on the map. Although it was a popular song, "Don't Speak" did not hit the Billboard Hot 100, but it did hit No. 1 on the Hot 100 Airplay chart for sixteen weeks.
"25 years and 815 million views on youtube later thank u for listening and re-listening to my music all these years," Gwen wrote in the caption. "happy anniversary."
No Doubt has hit another milestone. As of this time, the video for "Don't Speak" amassed over 816 million views and counting. Fans can't stop listening to this song and watching the iconic music video. Most took to Gwen's post to ask for a No Doubt reunion tour.
One fan didn't like the way Gwen worded her post. They said that she should have written "thank you for listening to our music" instead of "thank you for listening to my music." While some fans agreed with that user, others defended Gwen and said she was the one who wrote the song. However, some fans think that she makes the band all about her.
No Doubt singer tries on her iconic dress
Gwen Stefani took to TikTok to recreate her iconic "Don't Speak" look. Also, on Thursday, she posted a clip of herself wearing the iconic navy polka dot dress designed by Marco Marco. In the caption, she wrote: "happy 25 years of #DontSpeak."
Gwen and her stylists paired the look with white fringed cowgirl boots, fishnet stockings, and gold chains. This isn't the first time that Gwen has revived one of her iconic looks. In January, she dropped the music video for her new single "Let Me Reintroduce Myself," in which she wore some of her old outfits, including that dress.
Gwen's TikTok proves that silk lasts all these years. However, the one in the video looked shorter than the one she wore in the "Don't Speak" music video. This also proves that Gwen's style stands the test of time. To this day, Gwen still performs "Don't Speak," as she did during a Pandora Live event on March 31.