"Kellyoke" has grown in popularity. Ever since The Kelly Clarkson Show debuted in 2019, fans have looked forward to seeing what she will perform every day. Every cover is fan-requested. Other times, a celebrity guest or one of their family members will request it.
As Country Music Alley previously reported, Ruby Rose's mother requested for Kelly to perform Prince's "Nothing Compares 2 U." The singer often performs with her band Y'all and her musical director Jason Halbert. No matter what song Kelly sings, she looks and sounds good amid the glowing stage lights.
Find out how much work it takes to create "Kellyoke."
The story behind these ridiculously popular covers
On Friday, April 16, Billboard gave an in-depth look into how the team behind The Kelly Clarkson Show creates those epic performances every morning. When they sat around and came up with the concept of the talk show, they knew there was one element that it had to include. You can't have a talk show and not have the American Idol Season 1 winner show off her vocal chops. It just wouldn't make sense to not have any singing on the show.
"We thought, 'Wouldn't it be fun if we open the show up with a different cover, just like she already does?' Because we were trying to incorporate different pieces of Kelly into the show," Alexa Dude, NBCUniversal-distributed series executive producer told Billboard.
The team wanted to stick to the initial concept of the show which was "connection." Duda feels that music is the one thing that connects people. As a result, "Kellyoke" has amassed over 35 million views on YouTube. Thousands of fans flock to each of the videos every day to share their input. It made sense to make music an integral part of the program.
Once the "Kellyoke" segment kicked off, the team knew it had a hit on its hands. To this day, Clarkson has performed over 300 covers, which range from country music to pop and everything in between. She has covered hit songs from Chris Stapleton, Demi Lovato, Ed Sheeran, Lady Gaga, and Patty Griffin. She's also tossed in some surprising requests like the Bee Gees, Bon Jovi, Lizzo, and the Bee Gees.
How 'The Kelly Clarkson Show' makes it work
Somehow it works because Kelly Clarkson can sing anything under the sun. So far, fans have not complained about any of her covers. Jason Halbert, the show's musical director, and Clarkson's MD explained that the segment originated from what the singer did for years on tour. Each night, Clarkson would take a fan cover request.
"When the show started, we knew creatively that we wanted to incorporate it," Halbert said.
"Kellyoke" is the very first thing that fans want to see every day. It sets the tone for their day ahead. Some would say that this segment is uplifting to watch. Clarkson is thankful for the popularity of her covers and for working with Halbert.
"My career would be not what it is without Jason Halbert," Clarkson said in a statement to Billboard. "We are really good partners. I feel like every artist needs to have their person that complements them and helps their career come to fruition and grow. Jason is definitely that for me."
There's an elaborate process behind preparing the "Kellyoke" covers. Oftentimes, they would get social media and email requests from fans. Sometimes there's a song that Clarkson has never heard before, but she gets the final say on the cover songs. There are no surprises, according to Halbert.
While Clarkson can sing most of the songs, it's good to mix things up in order to keep the viewers on their toes. The hardest song to perform was "Let's Go Crazy" by Prince because there are so many elements involved. Some of their favorite covers are Lizzo's "Juice," Tegan and Sara's "Closer," and Phil Collin's "I Wish It Would Rain Down."
What are your favorite "Kellyoke" covers? Sound off below in the comments.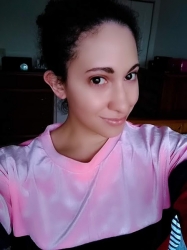 Latest posts by Chanel Adams
(see all)