Carrie Underwood looked every bit like a glowing butterfly at the 2021 Latin American Music Awards. The country singer wore a gorgeous Iris van Herpen couture gown. She attended the awards ceremony to perform her song "Tears of Gold" with David Bisbal. On Thursday, April 15, the award show aired live on television from Florida.
The 38-year-old joined Spanish singer David Bisbal for their special live performance of their duet "Tears of Gold." It was the first time that the singers got to perform together live. Underwood also sang live in Spanish for the first time. This comes after she explored gospel music and Christmas music.
Carrie Underwood wows in her red-carpet look
Carrie Underwood looked stunning at the awards show. Her off-the-shoulder gown comes from the designer's spring 2019 couture collection. It featured intricate details like black piping that mimicked the lines of a monarch butterfly. The singer wore her signature blonde hair down and parted in the middle.
Underwood kept the rest of her red-hot look simple. She wore large gold hoop earrings and black strappy sandals. Her left hand was adorned with delicate gold rings as well as her wedding ring. At the event, Underwood spoke to Telemundo about her duet with Bisbal. She called it "an amazing project" that she's grateful to be part of.
"I love this song so much and the fact that we both kind of get to swap a little bit and step into each other's worlds a little bit is just absolutely amazing," Underwood said. "I'm so happy to be here."
We have Tears of Gold watching this moment! 👏🏼💛👏🏼 @carrieunderwood and @davidbisbal perform their song #TearsofGold for the first time ever at the #LatinAMAs. Here's what they had to say! pic.twitter.com/A8SRit3wIq

— Telemundo (@Telemundo) April 16, 2021
She sure looked happy during the event. Underwood couldn't stop smiling on the red carpet. "Tears of Gold" was nominated for Favorite Video. Bisbal and Underwood dropped the music video in December 2020. Also in the crowded category was  Banda MS de Sergio Lizárraga and Snoop Dogg for "Qué Maldición"; Christian Nodal and Ángela Aguilar for "Dime Cómo Quieres"; Ozuna, Doja Cat and Sia for "Del Mar"; Rosalía and Travis Scott for "TKN" and Selena Gomez for "De Una Vez."
Watch their performance of "Tears of Gold"
Carrie Underwood changed into a different gown during the event. She slipped into a black one-shoulder gown that had gold sparks on it, which was a play on the song. Bisbal joined Underwood on the stage for their performance of "Tears of Gold." The two sang passionately throughout their duet.
In the beginning, hanging golden lanterns separated the two singers. But over time, the two walk toward each other singing in half-Spanish, half-English. The country singer had no trouble with singing in Spanish or with the pronunciation. Bisbal and Underwood had incredible chemistry on stage and showed that on the red carpet where they locked arms as they posed for photos.
Next, Underwood will perform a medley of songs from her My Savior album with gospel legend CeCe Winans at the 2021 ACM Awards on Sunday night, April 18 at 8 p.m. ET.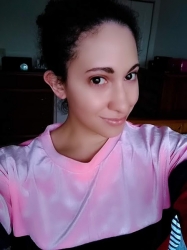 Latest posts by Chanel Adams
(see all)