On the Monday, April 19 broadcast of The Kelly Clarkson Show, the singer went back to her country roots once again. Earlier this month, she performed many country hits. In the latest edition of "Kellyoke," the talk show host and her band Y'all covered "You Look So Good In Love" by George Strait. "Kellyoke" has become one of the most popular segments on the daytime talk show.
Kelly's fame keeps growing thanks to these segments, which brightens up her viewers' day. Every weekday, they tune in to see what she plans to perform. No matter what genre she's singing, she never disappoints with her covers.
Check out her rendition of "You Look So Good in Love" by George Strait
At the top of the Monday morning broadcast, Kelly Clarkson stood behind the mic and cooed the lyrics along to the song. The Voice coach wore a gold baroque mini dress with black tights and matching ankle boots. She kept the rest of her look simple. The purple lights flashed behind her and matched her purple eyeshadow.
Kelly's voice didn't overshadow the tune. Instead, she sang from her heart. It was a very passionate rendition of this country classic. Fans think this cover looks so good on Kelly. Within hours that it was posted on YouTube, it amassed over 1,7000 views.
Glen Ballard, Kerry Chater, and Rory Bourke wrote "You Look So Good in Love" for George Strait's album, Right or Wrong. The single dropped in September 1983 and was even recorded by Mickey Gilley that same year. He ended up using the song for his album, You've Really Got a Hold on Me. The song is about someone noticing their ex-lover falling in love with someone else.
Instead of feeling heartbroken or angry, he realizes how happy he is for his former girlfriend now that she's found love with someone else. While he realizes that he couldn't be the one to make her happy, part of him knows it wasn't meant to be. "You Look So Good in Love" was also the first music video that featured the country legend, but was later removed on his behalf.
Fans fall in love with Kelly Clarkson cover
Fans were happy to see Kelly Clarkson perform another country classic. Just shortly after the video was posted on YouTube, most of them took to the comments section to share their reaction. One fan called Kelly's cover a "Stunning rendition of a classic. I love when she sings country."
Another added: "Kelly doing the king of country justice." There are some fans who think that Kelly's voice fits so many different genres of music. They would listen to her sing kids' songs if they could. One fan recalled Kelly singing a little of "You Look So Good in Love" during Ethan Lively's Blind Audition on The Voice.
What do you think of Kelly's cover? Sound off below in the comments.
The Kelly Clarkson Show airs on weekdays. Check your local listings for details.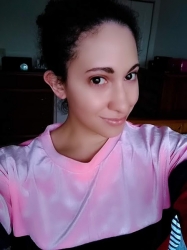 Latest posts by Chanel Adams
(see all)