Miranda Lambert had a big night at the 2021 ACM Awards. The country superstar kicked off the event with a very pregnant Elle King. The duo could not get "drunk" during the show, but they certainly brought the house down. Prior to the event, Miranda and Elle posed on the red carpet together.
The ladies wore matching fringe looks. Elle King showed off her pregnant belly in a black rhinestone jumpsuit and a black leather motorcycle jacket. Meanwhile, Miranda rocked a similar look except she had metallic fuchsia fringe on her jacket while Elle sported baby blue fringe. The singers wore the same look for their "Drunk" performance.
Twinning at the 2021 ACM Awards
Elle King and Miranda Lambert made fans do a double-take. The two wore matching getups on the red carpet and for their opening performance. First, fans noticed their similar looks. Then, they noticed that Elle is pregnant with her first child with her fiance Dan Tooker.
Per Us Weekly, hairstylist Johnny Lavoy gave them their glamorous hairstyles. When it came to Miranda's look, he wanted to give her "loose waves." He added Hidden Crown Hair clip-in extensions for that added volume, along with some texture spray for her "tousled look." He wanted Elle to have a "sexy rock and roll wave" for the performance.
Volume is important for these country ladies, and Johnny delivered. He gave Elle an epic blowout. Then, he added a "16-inch Hidden Crown halo-style extension" to her head. Miranda and Elle were in love with their matching looks. They both took to Instagram to share off their red carpet looks.
In her Instagram post, Miranda compared them to a pair of goats. She featured a photo of the two on the red carpet along with a swipe of two goats on the farm.
"GOATS!!👉🙋‍♀️🙋‍♀️🐐🐐 @elleking 😂It's ACM day y'all! (Swipe right for actual footage of Elle and I after a loooong media day). #drunk #duo #peggyandpreggy," Miranda wrote in the caption.
The Goats of Anarchy account love the reference, comment, "Awww."
Miranda Lambert teases 'The Marfa Tapes'
Miranda Lambert has been working on her new album, The Marfa Tapes, with Jon Randall and Jack Ingram. On Sunday night, she performed a few of the songs live for the first time with her collaborators. The trio performed their new song "In His Arms" from the upcoming track, which drops on May 7. The soft and quiet performance only featured the artists with just acoustic guitars.
Miranda left her glamour on the dressing room floor. For this performance, she wore a head-to-toe denim look complete with a beige cowboy hat and boots. Earlier on in the show, she joined Chris Stapleton on his song "Maggie's Song," which is a tribute to his family's late dog.
She later returned to Instagram to share a clip with her music team. The video shows them celebrating their night together. In the caption, Miranda wrote: "'The life I love is making music with my friends. – Willie #glamjam #acmawards #TheMarfaTapes.'"
Miranda was nominated for several awards, including Female Artist of the Year, Single of the Year, and Song of the Year. Although she lost, she still had a good time. What are your thoughts on Miranda's performances at the 2021 ACM Awards? Sound off below in the comments section.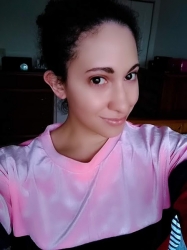 Latest posts by Chanel Adams
(see all)