Kelly Clarkson took a big risk with this Frank Sinatra classic. On the Tuesday, April 20 broadcast of her daytime talk show, she performed "My Way." On The Kelly Clarkson Show, she has covered everything from rock to pop to country and everything in between. You can classify this latest "Kellyoke" performance in the in-between category.
Over the weekend, Country Music Alley gave readers an inside look at how these covers come to light. Some of them are complicated and are left on the cutting room floor, while others are made possible with a lot of blood, sweat, and tears. Most of the covers are fan-requested and are approved by Clarkson herself.
Kelly Clarkson sings this cover her way
At the top of the show, Kelly Clarkson and her musical director Jason Halbert performed a piano rendition of "My Way." The two last got together for a classic Sinead O'Connor song, so this came as a surprise twist for fans. The lights dimmed as Clarkson stepped behind the microphone and gave it all that she got. She wore an olive green dress with black tights and matching ankle boots.
Meanwhile, Halbert sat behind the piano in an all-black suit. The two gave their rendition of the classic 1969 song. "My Way" was originally set to the music of the French song "Comme d'habitude," which was written by French songwriters Claude Francois and Jacques Revaux. Paul Anka wrote the English lyrics to the track and aren't related to the French song.
"My Way" ended up being a hit for many performers, not just Sinatra. Elvis Presley, Jocelyne, and Sid Vicious all performed their renditions of the song. However, Sinatra's version spent 75 weeks in the UDK Top 40, which is second-placed of all time. "My Way" ended up becoming Sinatra's signature sound. Over time, however, the singer ended up hating the song.
Fans love this rendition of "My Way"
Kelly Clarkson intended on doing her things her way with this cover. She gave a slow-down performance of the hugely popular song. As soon as The Kelly Clarkson Show posted the video on YouTube, it amassed over 2,100 views on early Tuesday morning. Fans love watching her performances, and they were curious to see how this one turned out.
"This woman can and will always be the greatest vocalist of my life. #TeamKelly4Life."
"The piano and Kelly's voice are magic together. The build-up is incredible. Sing with your hands like the queen that you are. This was everything, this was Kelly's way."
"Amazing! Kelly is the best vocalist ever. I love her attitude and the way she sings. Just close your eyes and enjoy this beautiful journey."
"She just did that! I don't know why I'm surprised, but that was great! Kelly is in a world all her own when she sings."
"I'm swooning… Kelly is the best vocalist ever. Keep it coming my Queen."
Fans were pleasantly surprised to hear this version on Tuesday morning. Some were emotional, while others begged for more classic covers from her. Clarkson has covered countless songs on her daytime show, including Dido's "White Flag," The Chicks' "Gaslighter," and LeAnn Rimes' "Blue." However, she sounds just as good singing a classic.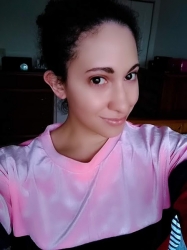 Latest posts by Chanel Adams
(see all)