Kelly Clarkson and her band Y'all had a roaring good time performing this rendition of "Rich" by Maren Morris. The singer-songwriter even admitted that she enjoys the country star's lyrics and music. During the Wednesday, April 21 broadcast of The Kelly Clarkson Show, fans got to see their favorite talk show host cover another country hit. Kelly let her hair down and showed off her sassy side.
"Rich" is the 2016 single on Maren's major-label debut album, Hero. She co-wrote the song alongside Jessie Do Dillon and Lauren Veltz. The triple threat co-produced the track alongside busbee. On February 12, 2018 "Rich" dropped onto country radio as the album's fourth and final single.
This "Kellyoke" cover will brighten up your dull Wednesday
If it's raining, then this "Kellyoke" performance will make your day. "Rich" has the perfect elements of country, hip hop, and reggae music. It features "laid-back, breezy" vocals and a "singalong" chorus that's perfect for anyone. As for fans, they believe that Kelly Clarkson can sing anything she puts her mind to.
The song talks about the way that a man has done Maren Morris wrong, which is the perfect cover song. Throughout the song, Maren uses hypothetical dollar values to count up his crimes, resulting in her becoming rich. "Rich" received praise for its "hip-hop bravado" and "sly wit," which Kelly conveys in her performance.
It was an unconventional song heard in the country landscape. Today, fans loved hearing Kelly's take on the song. They could tell that she was having a good time singing it. "Can Kelly get any cuter and sassier?!" one fan wrote. "This girl just blows me away all the time!"
"The 'nope!' part killed me!" another fan added. "I couldn't love her more!" Some fans think she's becoming the "GOAT" of cover songs if there isn't one already. They feel that she just checks off all the boxes when it comes to being a superstar.
Kelly Clarkson and Maren Morris were part of this strange rumor
Kelly Clarkson previously covered Maren Morris' "My Church" at the 2018 Billboard Music Awards. Last year, the two singers were part of a bizarre rumor. According to Micky, Kelly had her eyes on actor Keanu Reeves shortly after announcing her split from estranged husband Brandon Blackstock. She wanted Maren to help her attract the Matrix star.
"Kelly may have taken her advice a little too literally. She had her childhood crush Keanu Reeves on the show – and was drooling over him," an insider told a notorious tabloid. "If Keanu has a shred of interest, she'll be the happiest woman in the world. Though she knows it's probably wishful thinking."
Unfortunately for Kelly, Keanu is dating artist Alexandra Grant. However, Kelly has made it clear that she doesn't want to date. She can't even see herself falling in love again. For now, the singer wants to focus on her children. Kelly and Brandon share two children together.
What are your thoughts on Kelly's latest cover? Sound off below in the comments.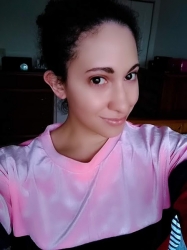 Latest posts by Chanel Adams
(see all)