Kelly Clarkson got emotional during her surprise birthday party. The event took place on her eponymous daytime show. During the Thursday, April 22 broadcast, Kelly's staff surprised her with a special birthday party. Unfortunately, due to the ongoing coronavirus pandemic, her surprise guests had to leave video messages.
One of those surprise guests included Reba McEntire herself. Other guests included Ian Somerhalder, Pentatonix, and The Voice alum Jake Hoot. All of them sent Kelly warm birthday wishes. When Ian appeared on the screen, that's when Kelly's tears quickly turned into a loud laugh and a curse. Read on to see his funny message.
Kelly Clarkson gets birthday wishes from her famous friends
On Saturday, April 24, Kelly Clarkson turns 39. Her team gave her a pre-birthday celebration with some of her celebrity friends. Reba McEntire told Kelly that she hopes to see her soon and wished her a happy birthday. Meanwhile, Jake Hoot gushed about the singer and how much she means to him. He shared that the American Idol alum was at the top of his list of people who influenced his life and career.
Kelly commented how "nice" her friends are. She tried to hold back some of her tears. Then Ian came on the screen and got her to accidentally curse. In the beginning, he talked about how wonderful the talk show is and how good of a person she is. Ian shared that Kelly is "very kind" to everyone she comes across.
The Voice coach let out a loud laugh when Ian joked that she was turning 50 instead of 39. She moved back in her chair, clapped her hand, and laughed out loud. All of the excitement led her to accidentally knock one of the giant posters off the wall. Kelly tried to catch it but failed and said, "Oh, s***!"
"50th?! This isn't my 40th yet, boy," Kelly continued with a smile on her face. "I don't even care, I'm ready for the 40th too."
Talk show host answers questions for her fans
The latter part of the surprise birthday party included a game of Jenga. In this version, however, Kelly Clarkson answered a question for each piece she pulled out. First, she was asked what her "idea of a seriously good time is." She sat there stumped and then admitted "everything coming across my brain is not appropriate."
Then, she answered her idea of the ideal "girls night," which involved a surprise trip to Las Vegas. During the game, Kelly was asked which is the worst celebrity she ever met. She admitted: "I haven't met a bunch of turds!" Kelly then expressed her love for fellow singer Adele.
The 15-minute video put a smile on a lot of fans' faces. Most of them took to YouTube to wish the star a happy birthday. Some of them are glad to see Kelly back on The Voice. She asked Kelsea Ballerini to sit in for her during the Battle Rounds.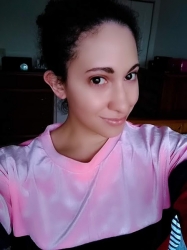 Latest posts by Chanel Adams
(see all)