Last month, Taylor Swift won Album of the Year for her 2020 quarantine album, Folklore. Now, her boyfriend, Joe Alwyn, has earned his respective Grammy Award. The 30-year-old actor received his award for his co-writing efforts on the eighth studio album. Initially, he had the pseudonym William Bowery under the tracks "Betty" and "Exile."
Also, he co-produced "August," "Betty," "Exile," "Illicit Affairs," "My Tears Ricochet," and "This Is Me Trying." In the Disney+ documentary film, Folklore: The Long Pond Sessions, Swift confirmed the rumor that Alwyn is William Bowery. Over the weekend, Alwyn's name appeared on the Recording Academy's official website, which reveals that he also won a Grammy Award.
This is leading the marriage rumors to swirl again.
Joe Alwyn is a first-time Grammy winner
On Saturday, April 24, news surfaced that Joe Alwyn is now a Grammy-winning artist. The Recording Academy finally credited him as a producer for the Album of the Year. Taylor Swift also worked on the secret album with Aaron Dessner and Jack Antonoff. While Alwyn was credited as producer of the popular album, he didn't receive credit for his role on the physical album at the time it was released in July 2020.
When Taylor confirmed him as William Bowery, his credits weren't enough to earn him a Grammy, so he received a certificate. This has since changed and he earned his first Grammy Award. His name Joe Alwyn has also been added to the credits on Spotify. During her Album of the Year acceptance speech, Swift credited her boyfriend for helping her work on it.
"Joe is the first person that I play every single song that I write, and I had the best time writing songs with you in quarantine," Swift said at the Grammy Awards on Sunday, March 14.
🏆| Joe Alwyn is now officially a Grammy-winning artist as Recording Academy credited him as a producer for the "Album Of The Year" win of "folklore" pic.twitter.com/NbIWTYYW7U

— TAYDUA NATION (@tayduanation) April 24, 2021
In a previous interview with Paul McCartney for Rolling Stone, Swift admitted that her British boyfriend inspired her to write the track "Peace." She revealed that the song "is actually more rooted in my personal life" compared to the songs on the album that are about fictional people. Swift called her longtime boyfriend "someone who has a very grounded, normal way of living." Since she can't control the media, she goes to him for "peace."
Taylor Swift secretly married?
This revelation led the marriage rumors to swirl. Most fans feel that Taylor Swift wouldn't share co-writing credits with just anyone. They remember the difficult relationship she had with DJ and music producer Calvin Harris. The two worked on the song "This Is What You Came For" featuring Rihanna.
Swift initially credited herself under the pseudonym Nils Sjöberg. Once the couple broke up, she revealed herself as the co-writer on the hit song while Harris outed her ways on Twitter. At the time, Swift moved on and was in a very heated relationship with Tom Hiddleston. Fans think the singer feels differently in her relationship with Alwyn.
taylor and joe could be married and we would never know

— alli ☆ (@waytoohonests) April 25, 2021
do you think taylor and joe are secretly married….cuz I do

— Kiki 🌟 (@Folklorian4Life) April 20, 2021
Ok quick question, 11/10 we all believe Taylor Swift is secretly married to Joe right?

— AP stan || Andrea (@stanapv) April 21, 2021
So we all agree Taylor Swift is secretly married right?

— Bee (@ImNotFreddy87) April 5, 2021
The couple could be secretly married. After all, Swift wouldn't give credit to just anyone. It's obvious that the couple is serious about each other since they've been together for four years. Swift's fans think she would share a Grammy with someone she's married to or at least serious about.
What are your thoughts? Do you think Taylor Swift and Joe Alwyn are secretly married? What are your thoughts on her boyfriend winning his first Grammy? Sound off below in the comments.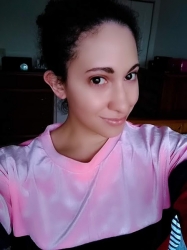 Latest posts by Chanel Adams
(see all)