Over the weekend, Gwen Stefani dumped a lot of content on Instagram. The No Doubt singer showed off her hot looks from her new music video for "Slow Clap." Earlier this month, she dropped the remix featuring rapper Saweetie. The video shows the two running around the halls of a high school and spitting lines from the song.
However, Gwen trended on social media for all the wrong reasons. Some fans felt that the 51-year-old looked out of touch among the teenagers. Others didn't think like the lyrics or the song itself. They felt that it was nothing like her "Hollaback" days even if she tried to recreate it.
Gwen Stefani shows off her back to school looks
According to Footwear News, Gwen Stefani released another version of the original "Slow Clap" song exclusively on Facebook. This video is similar to the remix, in which she returns to the classroom. In one scene, she looks angelic. Gwen wore a white head-to-toe outfit complete with fringe and a cowgirl hat.
"your guardian angel reporting for duty ♡😇 gx #slowclap," the performer wrote in the caption of one of the posts.
Over 24,000 fans liked the clip of Gwen twirling. Some of them agreed that she makes the prettiest guardian angel. She also shared another clip of her walking out of school in slow motion. She captioned that clip: "walk into the room like a boss #slowclap gx." The look is fringe-on-fringe. However, some fans were not feeling it.
One fan commented: "Eh overdoing the fringe lately on everything." One noted that Gwen is trying to appeal "to the Blake crew." Another one commented that nothing about fringe "says cowgirl." Despite the negative comments, most fans think that Gwen looks incredible in the white getup.
She followed up with a sneak peek at another one of her cowgirl-inspired looks from the video. The "Don't Speak" singer captioned the post: "u can call me the hall monitor 👩🏼‍🏫 #slowclap gx." One fan said they wouldn't mind being written up by her. Another said they would call her whatever she wanted. Apparently, this outfit was a hit with fans even though it had fringe.
No Doubt singer shows off her ageless beauty
Gwen Stefani caused a stir when she reposted a photo of herself wearing the makeup from the video. In the Instagram post, she credited makeup artist Gregory Arit, who gave her blue eyelids and a pink pout. Meanwhile, her signature blonde locks flowed behind her as she posed in a yellow jumper, which featured royal blue piping. Gwen finished off her look with a gold necklace and ear stud.
Fans immediately reacted to her incredible beauty in the comments section. Most of them focused on her lips. "Unique lip," one fan wrote, to which another added: "Beautiful, love the lighter lipstick." A third one commented: "Lip color looks great on you."
Most were blown away by Gwen's ageless beauty. "This lady does not age," one wrote. Gwen just celebrated the 25th anniversary of No Doubt's hit song "Don't Speak," which is hard to believe. She wrote the song about her split from ex-boyfriend Tony Kanal. It shot to No. 1 and stayed there for 16 consecutive weeks, and was one of the most widely played songs on various radio stations at that time.
To commemorate the occasion, Gwen recreated some of the looks from the video. She also recreated some of her iconic looks in her music video for "Let Me Reintroduce Myself." Fans are always in awe over her unique style and natural beauty. Check back with Country Music Alley for more news on Gwen Stefani.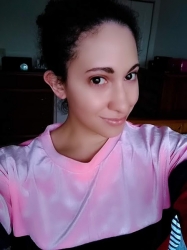 Latest posts by Chanel Adams
(see all)