Blake Shelton is considering bringing back his mullet. The country singer had a change of heart after he saw Kenzie Wheeler on The Voice. The contestant took the stage on the final night of the Knockout Rounds. Wheeler performed his rendition of Luke Combs' "Beer Never Broke My Heart."
His upbeat performance received praise from his coach Kelly Clarkson as well as Shelton. He has a feeling that the contestant will end up winning the entire competition. Shelton also feels inspired by Wheeler's signature look. After shunning mullets completely, the "Minimum Wage" singer is considering bringing his back.
Maybe country singers with mullets have more fun.
Does Blake Shelton want to bring his mullet back?
Blake Shelton also wanted a closer look at Wheeler's mullet. Apparently, he still holds an affinity for the hairstyle. The country superstar may consider growing his hair back. As fans know, Shelton rocked a mullet in his heydey. The mullet has since come back in style and is unironically popular among Gen Zers.
"I gotta see something here. You're probably going to win this show," Shelton said as he walked onto the stage. "You're probably going to win The Voice and that haircut's going to be trending and I want to be in on it."
"You gonna grow one?" Wheeler asked.
"That's why I'm getting a good look at it," Shelton joked.
Mullet aside, Shelton encouraged Clarkson to advance Wheeler into the next round. He called the singer "the real deal" and "a talented SOB." Thankfully, Clarkson took Shelton's advice and moved Wheeler into the next rounds. She called him "captivating" and says that he has "a natural gift" of attracting people to him on the stage. Clarkson feels that Wheeler is the type of person that people would "want to get a beer" with.
Could Wheeler take the entire show? It's highly possible. Fans will have to stay tuned and see how the rest of this season plays out since anything can happen. This comes after Shelton said that he feels Clarkson will win this season because of Wheeler.
Country singer dissed the mullet before
Blake Shelton could reconsider growing his mullet back. He previously performed his hit song "Austin" at the 56th Academy of Country Music Awards earlier this month. The country superstar kicked off his medley performance with his debut song to mark its 20th anniversary. However, some fans believe that Shelton's iconic mullet was missing from his performance.
Some of them even took to social media to demand his old hairdo. Shelton reflected on the 20th anniversary of his No. 1 debut single on Friday, April 16. In an exclusive interview with People, the 44-year-old revealed what advice he would give his younger self. At the time, Shelton seemed over the mullet.
"I would have told that kid, 'Hey man, the mullet's not as cool as you think it is," Shelton said. "And I would have told myself to get more rest back then. When I started I was 24 and lived life to the max back then. It's probably why I ran out of battery so soon."
"Austin" became Shelton's first No. 1 hit on the Billboard Hot Country Songs chart. It also catapulted him into superstardom. Shelton released 11 studio albums since then. His 12th album, Body Language, is set for release in May.
What are your thoughts? Do you think Blake Shelton should bring the mullet back? Sound off below in the comments.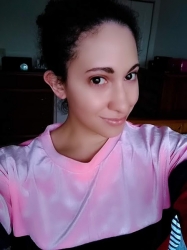 Latest posts by Chanel Adams
(see all)