Kelly Clarkson and her house band Y'all performed a memorable cover of this Coldplay hit. It's the perfect way to end the workweek. The singer put her own twist on the band's smash hit "Yellow." Of course, yellow lights flashed around her as she sang.
This song may end up getting stuck in your head, so proceed with caution. At the top of the Friday, April 30 broadcast, Kelly wore a cream-colored boyfriend cardigan over a T-shirt and long skirt. She paired her casual look with a black belt and matching boots. Check out her rocking performance in the video below.
Knocks it out the park with Coldplay rendition
Kelly Clarkson finished the week strong with another amazing "Kellyoke" performance. She did not shy back from singing this classic song. The talk show host showed off her incredible vocals as she gave her twist on Coldplay's "Yellow." After she finished the song, Kelly confidently walked away from her microphone stand.
Her cover went viral on social media. Fans loved the performance once again. This time, they took to Twitter to share their excitement. Here are just some of the comments:
"Beautiful beautiful, @kellyclarkson!!! And great lighting job! Very @coldplay! I love you Coldplay!!"
"Damn "
"Oh my gosh! That was so dreamy! "
"She's my yellow right now."
"THIS IS BEAUTIFUL! One of my fav covers she's done!"
Kelly previously performed a handful of killer covers, including Canadian singer Tate McRae's "You Broke Me First." Even those who never heard of the song before loved this cover. Her other covers included Adele's "Send My Love (To Your New Lover)," Christina Aguilera's "What a Girl Wants," and LeAnn Rimes's "Blue." Kelly has also been performing a lot of country covers lately as well. It's been a good mix of "Kellyoke" performances.
Kelly Clarkson covered Coldplay before
Kelly Clarkson channeled Coldplay before. On St. Patrick's Day, she covered the band's song "Green Eyes." Back in October 2020, she performed "The Scientist," which is often referred to as a moody song. Kelly wore a fresh orange dress to fit the season as she crooned the groovy tune.
In a 2002 interview, frontman Chris Martin simply said that the song was about "girls."
"It's weird that whatever else is on your mind, whether it's the downfall of global economics or terrible environmental troubles, the thing that always gets you the most is when you fancy someone," he explained.
In 2018, Kelly tweeted that her daughter River Rose has a huge crush on Chris Martin and wants to "marry" the musician one day. However, her famous mom knows it's unlikely to happen. In a video featured in an old tweet, River says, "I like his song, and I wanna kiss him."
Kelly appears to be a huge fan of the UK band as well. In 2005, she performed Coldplay's song "Fix You" in concert. What are your thoughts on her latest cover? Sound off below in the comments.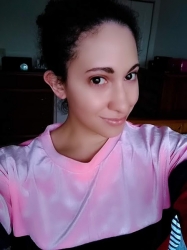 Latest posts by Chanel Adams
(see all)