During the Thursday, April 29 broadcast of The Kelly Clarkson Show, the talk show host performed "You Broke Me First" by Tate McRae. The singer and her house band, Y'all performed an enchanting version of the song that's popular among Gen Zers. This cover is just the latest in a long series of "Kellyoke" covers. Every time one drops, it makes major headlines.
That's because fans love Clarkson's performances. They feel that the singer can do no wrong. So far, there haven't been any complaints about her cover songs. The singer has made it clear that there are songs that she won't sing. Also, there is a lot of work that goes into each segment, which is why it's always perfection.
Kelly Clarkson covers Canadian pop star
Kelly Clarkson already covered superstar Adele earlier this week. Now, she's trying her hand at this pop hit. On Thursday's broadcast, Clarkson wore a white printed dress with a black belt. She kept her look simple with her black opaque tights, ankle boots, and hoop earrings. The singer gave an emotional and enchanting version of the hit.
Even if you're not familiar with "You Broke Me First," you will love this performance. Suddenly, the lights flashed around Clarkson as she hit the high notes. "You Broke Me First" dropped in April 2020, at the height of the coronavirus pandemic. It became a hit for the Canadian singer. The song became popular on TikTok and ended up in the top 10 in 17 countries, including the U.S., UK, and Canada, according to ET Canada.
"I feel like Kelly Clarkson relates to this song heavily," one fan noted, referring to her divorce from estranged husband Brandon Blackstock.
Mos fans were impressed with this performance and think she hit every note. One even compared her to a literal angel. Even Tate McRae shared her praises on social media. She took to her Instagram Stories to share a screenshot of the YouTube video. McRae tagged Clarkson and added three hearts with arrow emojis.
Who is Tate McRae?
Somehow the Canadian became a pop star during the pandemic. She hasn't even finished high school yet. The singer-songwriter has been working on a collection of moody alt-pop tracks that feature her dancing skills. Trying to become the biggest pop star in the world is difficult when you're a senior in high school.
"I forget sometimes I have school work too," McRae told Spin Magazine. "I have to juggle school, dance training every night, work-outs, and all the writing sessions. It's pretty jam-packed."
Her debut single "You Broke Me First" became the song of summer 2020. McRae ended up on the Billboard Hot 100, peaking at No. 63. So far, the song has amassed over 599 million plays on Spotify. Now it's getting mainstream recognition from established artists like Kelly Clarkson.
What are your thoughts on this cover? Sound off below in the comments.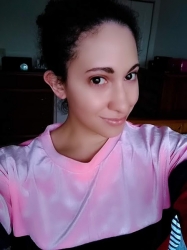 Latest posts by Chanel Adams
(see all)