On the latest "Kellyoke" performance, Kelly Clarkson and her house band Y'all took to the stage to perform "You've Really Got a Hold On Me" by Smokey Robinson and The Miracles. They stayed true to the original Motown hit. The Emmy Award-winning daytime talk show is known for its connection, heart, and humor, including these "Kellyoke" performances. Fans look forward to seeing what Clarkson and her band will perform every day.
The hour-long program gives viewers a look into Clarkson's life. Of course, there are celebrity interviews, fun segments, and touching conversations. Clarkson loves to give back as much as she loves to sing.
Kelly Clarkson performs a mesmerizing cover
Kelly Clarkson has got a hold on her fans. During the Tuesday, May 4 broadcast, she sang her version of the classic 1962 hit by Smokey Robinson & The Miracles. For the "Kellyoke" segment of her talk show, Clarkson wore a black sweater with a leopard print skirt. She paired her look with ankle boots and gold jewelry.
The red and blue lights flashed around as she performed the Motown track. Fans were very pleased with this cover. They loved that Clarkson was able to put her twist on the song while staying true to the original version. She showed off her pipes, especially at the one-minute mark where she hits all the right notes.
"This classic soul music genre fits Kelly like a glove."
"So groovy! She can sing anything."
"The tone is just beautiful Kelly, and that agility, yes!"
"You slaaay, my queen!!! What a voice!!!"
"Kelly can sing the alphabet and it would be saved on my Spotify playlist! Her voice is amazing!!!!"
"Her tone got a lot darker and heavier. That's amazing!"
Clarkson continues to knock it out of the park with her performances. She previously performed Linda Ronstadt's classic song "When Will I Be Loved." The singer tries to switch it up in between songs. She even throws in a few surprises for her fans.
More about the Smokey Robinson hit
"You've Really Got a Hold On Me" debuted in the Top 10 in the Billboard Hot 100 in 1962. Many artists have covered the song over the years, including the Beatles. The best cover is a matter of personal opinion. Today, fans are happy to see Kelly Clarkson perform this song since they feel that her voice is best-suited for Motown.
It's clear that the American Idol Season 1 winner can sing just about any genre. Fans love her R&B covers just as much as they enjoy her country music performances. Of course, that's all a matter of opinion since there are some that love it when she sings rock music. She manages to make someone's day better with her "Kellyoke" performances.
What are your thoughts on Clarkson's latest "Kellyoke" cover? Sound off below in the comments.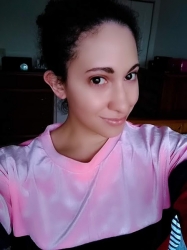 Latest posts by Chanel Adams
(see all)