On the Monday, May 3 broadcast of The Kelly Clarkson Show, the star and her house band Y'all performed their rendition of "When Will I Be Loved" by Linda Ronstadt. This song was the perfect way to kick off the week for the daytime talk show host. In the latest "Kellyoke" cover, Clarkson stays trued to the original version of the old-school classic.
Phil Everly from the Everly Brothers wrote "When I Will Be Loved" in 1960. However, it wasn't until 1975 when Linda Ronstadt covered the song. Her version became a huge hit in the U.S. In the first week, it peaked at No. 2. Now, Clarkson is putting her own spin on this song.
Kelly Clarkson burns up the stage
In her popular "Kellyoke" segment, Kelly Clarkson and her band perfected this song. She stuck to the original version. She wore a black shirt dress with white piping. The singer paired her look with black opaque tights, chunky heels, and hoop earrings. Purple lights flashed behind her as she crooned along to the song.
This "Kellyoke" segment is another hit. Fans think that this cover was a personal one for the singer. As fans know, Clarkson is in the midst of her divorce from her estranged husband Brandon Blackstock. Some of her "Kellyoke" performances feel like a reflection of her personal life. Maybe because fans want Clarkson to perform these songs since she's not releasing new music at the time.
Regardless, The Voice coach received high praise for the performance.
"Very few singers can give this song and Linda Ronstadt the respect it deserves- Kelly can❣️," one fan commented.
Another reassured Clarkson that she will be loved one day. "You will be loved, Kelly. ❤️ Your Fans Love you," they wrote.
Most feel that her "Kellyoke" covers keep getting better. So far, they haven't hated ONE cover. Others followed Clarkson since her Idol days and feel that her talent has only grown since then. Viewers also took to the comments to remind her that her fans will always love her.
Background on "When Will I Be Loved"
Before Kelly Clarkson, Linda Ronstadt previously recorded the song for her album, Heart Like a Wheel. This version changed the lyrics of the Everly Brothers original. At the time, Capitol Records didn't know whether to release "When Will I Be Loved" or "You're No Good" as the lead single. They eventually released the hit song in March 1975.
"When Will I Be Loved" hit No. 2 on the Billboard Hot 100 in June 1975. It also debuted at No. 1 on Cash Box. It ended out beating Captain & Tennille's "Love Will Keep Us Together," which dominated the charts for several weeks. Eventually, "When Will I Be Loved," fell off the charts. Instead, the B-Side of Buddy Holly's "It Doesn't Matter Anymore," found its way up to the charts, where it peaked at No. 54 Country.
What are your thoughts on Kelly Clarkson's cover? Sound off below in the comments. The Kelly Clarkson Show airs weekdays on ABC. Check your local listings for times.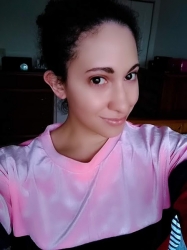 Latest posts by Chanel Adams
(see all)