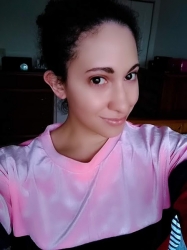 Latest posts by Chanel Adams
(see all)
Jessie James Decker showed off her new breast implants. She says that she feels like "a new woman!" The country singer recently underwent breast augmentation surgery. She then took to Instagram to share the news with her fans and followers.
According to the reality star, her new implants are part of "treating herself." Jessie and her husband Erick Decker swore off having more children. So, she wanted to get her body back so she could feel more like herself again. The songstress took to the social media app to share photos of her upgrades and she couldn't be happier.
Singer says "I Look So Good" with new implants
On Thursday, May 6, Jessie James Decker posted a mirror selfie on Instagram. In the photo, she wore a light gray bikini. She made sure all of the attention was on her breasts because she upgraded them. The musician shared her reasons for undergoing plastic surgery and the issues behind making that decision.
"I treated myself… to new boobies! After deciding we were done having babies I was finally ready to go big or go home ha!" Jesse captioned the Instagram photo. "I had breast reduction and lift a couple years ago when they were hanging down to my belly button but with having such elastic skin and not being happy with the size I decided to do with it. They were so big and perky before children and I wanted them back … plus some. I feel great."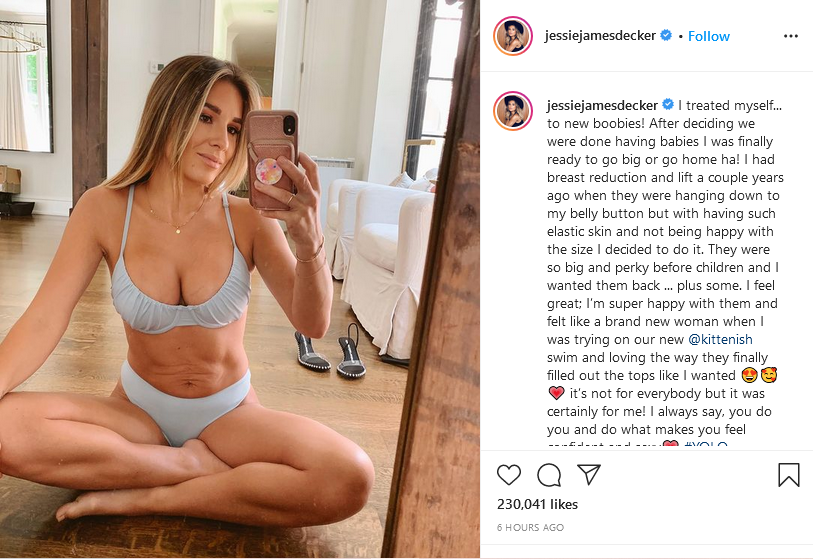 The Eric & Jessie alum feels good about her decision. However, most of Jessie's fans noticed the change when she previously shared bikini photos on social media. All of the speculating could be the reason why Jessie addressed the obvious. Regardless, she got plenty of support.
Actress Olivia Culpo took to the comments to write: "😍🔥 hawt mamaaaaa!" Jessie got other positive reactions. Somehow, it spread like wildfire. One fan commended the star for "managing realistic expectations for the women and young girls following you and being transparent!" It's unclear whether the surgery is related to her back problems, which she previously opened up about on Instagram.
Jessie James Decker is open about her body
The former E! star is no stranger to sharing her body struggles. She's talked about them ever since becoming a mother of two. Not only does Jessie James Decker share revealing photos, but she also shares her ups and downs. The Deckers are known for their provocative photoshoots that always have people talking.
Recently, Jessie has been sharing the underwear and swimsuit samples from her Kittenish boutique in Nashville. Her previous goal was to fill into the bikini tops. The musician also celebrated Cinco De Mayo in her bikini. Jessie made it clear that she feels confident in her own skin.
What are your thoughts on her Instagram post? Sound off below in the comments.