It's time to catch up on the latest Kelly Clarkson covers. The singer took the stage to perform the next set of powerful songs. Fans will enjoy these latest covers. She covered songs by Davina Michelle and Gladys Knight & The Pips.
Clarkson's "Kellyoke" covers continue to make headlines. Each one of them has received a positive reaction. There hasn't been one that fans don't like. Each of Clarkson's covers gets a positive reaction and just leaves fans wanting more.
Check out her cover of "Liar" by Davina Michelle
On Wednesday, May 5 broadcast of The Kelly Clarkson Show shared her cover of "Liar" by Davina Michelle. However, it's not available on YouTube. Instead, viewers will have to check it out in this article. Unfortunately, the daytime talk show removed the video from its official website.
"Liar" is the song featured on Davina Michelle's album, My Own World. Davina Michelle is an up-and-coming pop star. Clarkson took to the stage in a belted leopard print dress. Blue lights flashed around her as she stood behind the microphone stand.
She did justice to the song and gave it the attention it deserves. This isn't the first time that Clarkson covered a song from a new artist. Country Music Alley previously reported that The Voice coach sang an enchanting version of Tate McRate's hit song "You Broke Me First." Some fans think the song was perfect for Clarkson since she's going through her own divorce from estranged husband Brandon Blackstock.
Kelly Clarkson takes the "Midnight Train to Georgia"
At the top of the Thursday, May 6 broadcast, Kelly Clarkson and her band Y'all covered a soulful rendition of "Midnight Train to Georgia" by Gladys Knight & The Pips. The 1973 hit song was featured on the Pips' 1973 LP, Imagination. "Midnight Train to Georgia" won a Grammy Award for Best R&B Vocal Performance by a Duo, Group, or Chorus. It also became Knight's signature song.
However, fans are loving Clarkson's take on it. They always love it when the singer covers R&B and soulful music. "Ok Kelly so we need a cover CD of you singing old school R&B hits!" one fan wrote. Another one noted that Clarkson and her house band "made this soulful song sound so country." Here is more praise for the American Idol alum:
"DAMN, GIRL!!! YOU ARE FABULOUS! 💜💜💜💜💜"
"Please do Help Me Make It Through The Night! Such a glorious song ❤️❤️"
"Nobody can even come close to you Kelly. You OWN that song. And OMG what a band! I mean, did that just happen? Say WHAT?"
"Sang it like no other😍🤙🏽💜🌺❤️"
"I am seriously running out of compliments on Kelly! She kills it EVERY SINGLE TIME! Damn Queen just slay me if you will! ❤️💛🌻🥰"
It's safe to say that Clarkson killed both of these performances. What are your thoughts? Share your favorite Kelly Clarkson "Kellyoke" cover in the comments below.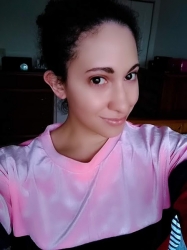 Latest posts by Chanel Adams
(see all)