Kelly Clarkson revealed who she would share a Super Bowl stage with. She played a game of "Who Would You Rather" on her daytime talk show. In the new video posted on the talk show's YouTube channel, Clarkson answered questions about who she would like to perform with. However, it was a '90s music stars edition of the classic game.
Most of the questions ranged from Mariah Carey to Whitney Houston to 'NSYNC and Hanson. On Wednesday, May 5, her eponymous show shared the digital sneak peek of Clarkson playing the game in which she had to choose among some of her favorite '90s artists, which is not as easy as it sounds.
Who does Kelly Clarkson want to share a Super Bowl stage with?
In the new video, Kelly Clarkson talked about who she would like to perform at the Super Bowl with. She had to choose between Mariah Carey or Whitney Houston. Clarkson chose Carey since Houston is not alive, but she did admit that it would be a difficult choice.
"If they were both alive, that would be a really hard thing for me," Clarkson explained. "Those two women are, like, seriously two of the reasons I'm a singer. I'm such a huge fan of Whitney and Mariah."
Clarkson explained that she is a fan of both singers and she enjoys their music. She knows all of the lyrics, the beats, and when they pause to take breaths. Clarkson grew up singing some of their classics before she became the first American Idol. She also said that people shouldn't pit them against each other since they have different styles of music.
"They are totally different artists, "Clarkson said. "And nobody gives Mariah the credit she deserves as a songwriter."
During the game, Clarkson also revealed that she would love to write a song with Alanis Morisette. She called her a "great example of a woman." Clarkson went on to describe the "You Oughta Know" singer as "very bold, very talented, very smart." Ever since she was a little girl, she knew she wanted to collaborate with Morisette.
Who does she trust to keep her biggest secret?
Kelly Clarkson had to choose between two other powerful women — Brandy and Monica. She said that she would choose Brandy to keep her biggest secret. The two have actually met before. Clarkson joked that she would trust Brandy with her life.
"I've met Brandy and I'd trust 'Sittin' Up in My Room,' anybody who could write that jam," Clarkson explained. "I would trust her with anything. Remember when she and Whitney did Cinderella?"
She also revealed that Carey and Houston's collaboration on "When You Believe" from the 1998 DreamWork animated film The Prince of Egypt made an impact on her own singing career. Clarkson admitted that she probably sang it at a talent show. The Voice coach was also asked whether she would be in a text chain with Destiny's Child or the Spice Girls.
Clarkson chose Destiny's Child because she knew all their songs growing up. She wasn't a big Spice Girls fan. When it comes to playing beer pong at a party, Clarkson had to choose between Cher or Madonna. She picked Cher because "she seemed really nice and down-to-earth" and "really fun."
Watch Kelly Clarkson play "Who Would You Rather: '90s Music Edition" in the video below.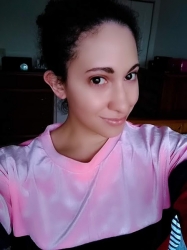 Latest posts by Chanel Adams
(see all)